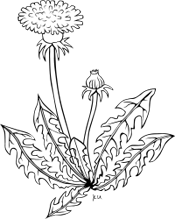 Edible weeds are plants that tell us where they want to grow – and there is a reason for this; they know better than we do! Sometimes they get a tad exuberant and they cross the line to become invasive; but make no mistake, planet Earth is as much their home as it is ours.
Weeds, edible or not, are the first steps towards a balanced ecosystem.
Ecology is central to our understanding of how and why weeds grow and yet we have lived in a society that has "trained" us to believe they are bothersome and must be eradicated. Ecosystems sustain every life-supporting function on our planet.  Ecology is, in simple terms, the interaction of living organisms with one another.
Importance of weeds in the ecosystem include:
They provide colonization for other plants to grow. They provide weathering of the soil to return nutrients and to rocks to make room for other organisms to survive in.
Seeds sustain macrofauna (animals that are one centimetre or more long but smaller than an earthworm). Potworms, centipedes, millipedes, slugs, snails, fly larvae, beetles and spiders are typical members of the macrofauna. These provide food for other insects.
Having a wide and diverse range of plant species assists in animal health and promotes animal self-medication.
Weeds can be used as indicators of soil conditions.
Perhaps the most important reason weeds are in the ecosystem is the honey bee. We all know how crucial the honey bee is to life on earth – without bees we have a very serious problem.
Honey bees collect pollen and nectar from a variety of flowering plants, including milkweed, dandelions, clover, goldenrod and a variety of fruit trees. Only worker bees forage for food, consuming as much nectar from each flower as they can. After foraging, worker honey bees return to the hive and pass the collected nectar to another worker. This worker holds the nectar on her tongue until the liquid evaporates, creating honey. The honey is then stored in a cell within the hive.
Plant ecologist Herbert Baker (1965), devised a list of traits (Baker's Traits) that characterize "the ideal weed." Some of these include:
Germinates over a wide range of conditions;
Long-lived seeds, dormancy, discontinued germination;
Rapid growth from vegetative to flowering;
Cross pollinated by wind or insects and;
Seeds produced continuously throughout the growth period.