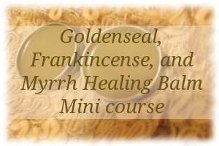 Tamra Speakman is the owner of Shatul-Deeply Rooted Wellness and I am really thrilled to know this talented woman. For over a decade she worked as a Licensed Vocational Nurse but wanted to take her career further. Faith has helped to guide her through some very trying times battling many health ailments and today she is healthy and works as a holistic herbalist.
Not that long ago Tamra developed an easy-to-follow mini-course on how to develop a healing balm using Biblical herbs. This course is called the Goldenseal, Frankincense and Myrrh Healing Balm Mini Course.
All you need to know is covered in the course and as you go along Tamra teaches everything there is to know about this balm. You can follow along as you make your own healing balm and pause the video when required.
A healing balm is an herbal ointment that includes herbs and essential oils. Herbs are typically infused into oil for 3 to 4 hours in an oven before using them to make a balm. (You will have to do this before actually making the balm.)
You may find as you go along you need to increase the volume on the video but that's ok.  Tamra ensures that every step is properly explained so that it does not leave you with any questions. At the onset she lets you know everything you'll need to make the balm; it's like having Tamra in the kitchen with you. If your scales do not measure in grams then you will have to convert the measurements.
This incredible healing balm turns out to be a soothing amber colour with a wonderful scent.
Let's briefly examine why this healing balm is so powerful.
MYRRH (topically) has been used to treat muscular pain, sores, ulcers, arthritis, wounds, weak gums, acne, as well as fungal or bacterial skin infections. (Myrrh is a common ingredient in tooth powders and mouthwashes to help maintain good oral health.)
FRANKINCENSE (topically) is beneficial for a variety of skin conditions but is best used when diluted or used in a balm. It has been used to help alleviate arthritis, osteo and rheumatoid arthritis and is an anti-inflammatory.
GOLDENSEAL (topically) helps as an anti-inflammatory and it has antiseptic actions. This makes it useful to clean wounds, soothe canker sores, reduce hemorrhoids, and alleviate skin infections. It can also help treat eye infections such as conjunctivitis.
There you have it – the powerful topical benefits of these three herbs makes this healing balm an absolute must-have in your herbal medicine cupboard! For only $10, this online course provides you with valuable knowledge.