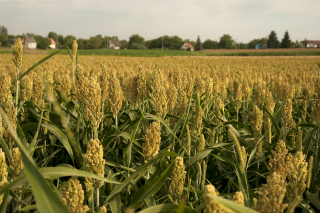 In October 2011 I wrote a blog on my website about vitamin B17, something that is vital to our health yet receives no attention in mainstream publications. B17 occurs in abundance in nature and in foods that have not been altered by the food industry.
It has been discussed that B17 is not an official vitamin, in fact it is not a vitamin at all; this substance is called amygdalin. Of course B17 tends to roll off the tongue faster when talking about its goodness so either way we now know that B17 or amygdalin is the same thing.
Yes, amygdalin is bitter to the taste buds but this is because the food industry has made so many changes to foods in order to "enhance" flavours and as such amygdalin has been greatly reduced by selection and cross-breeding. The good news is that there are many foods both domesticated and wild that contain B17.
Amygdalin

Amygdalin is composed of two molecules of glucose, one molecule of benzaldehyde, and one molecule of hydrocyanic acid. This combination produces cyanide which is believed to be the active cancer-killing 'ingredient'. Supposedly only cyanide gas is lethal and the only way cyanide in food can be released is by an enzyme which is only found in a cancer cell.
Farmer's Fact or Folklore

It is said that many decades ago farmers noticed that during the winter months their cattle developed external tumors. The food cattle ate then was dry hay and silage. When spring arrived the cattle grazed in pastures growing fresh grass. After a few weeks of grazing on the fresh grass farmers noticed the tumors got smaller until they disappeared. As the years went by farmers started calling this condition winter tumors. Applying today's knowledge to these winter tumours it is apparent that amygdalin was one of the active agents in the grasses which eliminated the tumors.
What is a definite fact is that millets, loaded with amygdalin, are one of oldest grains that have been cultivated since ancient times. It is a very healthy grain yet wheat became more popular and in recent years we have learned how bad modern day wheat is for our health. (For example: Clearfield Wheat, grown on nearly one million acres in the Pacific Northwest and sold by BASF Corporation–the world's largest chemical manufacturer–was created in a geneticist's lab by exposing wheat seeds and embryos to the mutation-inducing industrial toxin sodium azide, a substance poisonous to humans. This hybridized wheat doesn't survive in the wild, and most farmers rely on toxic chemical fertilizers and pesticides to keep the crops alive.)
Cancer
Amygdalin contains a cyanide compound that is not toxic to the body, but is toxic to a cancer cell. Unlike a normal cell, the cancer cell contains a special enzyme that allows the cyanide to release the amygdalin. So, the cyanide leaves the normal cells alone and only targets the cancer cells. Amygdalin is found in many foods such as, apple seeds, apricot kernels, bitter almonds, wheat grass, millet, spelt, barley, lima beans, lentils, garbanzo beans, strawberries, blackberries, raspberries, loganberries, boysenberries, cranberries, elderberries, mulberries, gooseberries, huckleberries, spinach, sweet potatoes, flaxseed, flaxseed oil, kidney beans, peaches, plums, and much more. The highest concentration of amygdalin is found in apricot kernels and there are high concentrations in bitter almonds as well. (Sweeter varieties of almonds have much lower levels of amygdalin.) It is also found in alfalfa and possibly red clover flowers.
Interestingly amygdalin gets its name from almonds. Amygdala is Medieval Latin for almond, amigdal is old English for almond; and amygdálē is almond in ancient Greek.
Various documents from the oldest civilizations such as Egypt at the time of the Pharaohs and from China 2,500 years before Christ mention the therapeutic use of derivatives of bitter almonds. Egyptian papyri from 5,000 years ago mention the use of "aqua amigdalorum" for the treatment of some tumours of the skin.
Amygdalin in your Daily Diet as a Defense to Disease
Having some B17 in your daily diet is a good thing. Like everything else in life though too much of a good thing can be a bad thing. Having a well-balanced, healthy diet goes a long way to building your immune system. This means lots of fresh vegetables and fruits, avoid GMO foods, and educate yourself on what those ingredients really are (and how they affect health) on labels.
Keep in mind that the more refined and processed your food is, the less likely it is to contain amygdalin.
Some people will argue that amygdalin is not safe to consume yet when you discover just how much amygdalin some people are eating every day you have to ask why is there opposition? Could it be that there is no profit to be had from those with good health?
Check out the resources below for more information and be sure to check out my B17 Soup recipe!
Then God said, "I give you every seed-bearing plant on the face of the whole earth and every tree that has fruit with seed in it. They will be yours for food." Genesis 1:29
Resources:
World Without Cancer (documentary)