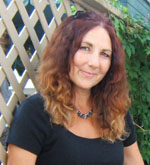 About Us
EdibleWildFood.com has grown "like a weed" since launching in August 2011 and this is all due to the fabulous people who have made this possible – you!
"People need to garden in 2011 as if their life depended on it." Those words appeared in a few articles I read in January 2011 and they sure sounded ominous. The underlying message that the authors were trying to convey was that food prices are going to climb and there may even be a food shortage just over the horizon. They were right.
Sadly it is always the low or fixed income families that suffer when prices are hiked and the "food-like" substances that stores sell (processed foods) are not even healthy. EdibleWildFood.com educates those who are interested in weeds as an alternative food source.

In February 2012, I started a free monthly newsletter to help people learn more about wild edibles and it includes easy-to-make products that are inexpensive and effective. In only 6 months, almost 500 people worldwide have subscribed to Nutrition – Nature's Way!
I now have an online store thanks to my family! Without their volunteer and financial help, this would not have been possible. Their support has been incredible.
So who am I? My name is Karen Stephenson. I am an author, professional writer and editor. My love for writing goes back to the early 1990's. I earned an S.S.W. (high honours with distinction) in 1999 from Seneca College of Applied Arts and Technology in Toronto, and I have completed more workshops and courses than space will allow with the most relevant courses to this project being Herbal Pharmacy Level 1 and 2. I volunteer in the youth justice process as well as at a homeless shelter. Most of my volunteer time is here – teaching people about edible wild food!
Memberships
Ontario Herbalists Association (Student Member)
North American Native Plant Society
Green Connections (York Region)
Member of Sustain Ontario
Member of The Mycological Society of Toronto