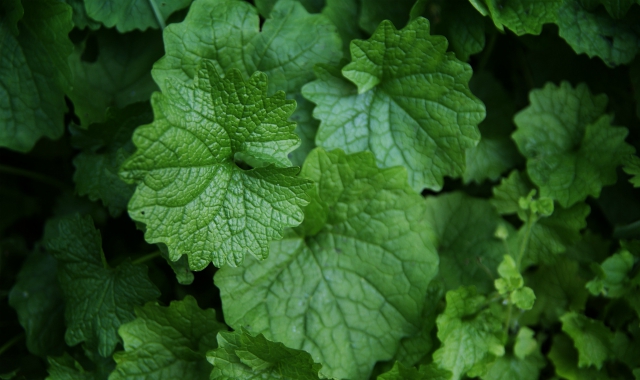 – We offer a comprehensive 20-page, $5 Garlic Mustard PDF (includes recipes)! –
Garlic mustard is a wild edible that has earned the title of being invasive in many geographical areas.  This nutritious weed even made headline news in the Green Bay Press Gazette: "Invasive species get jump start from warm weather, DNR warns." Hmmm…
The March 31, 2012 story makes this edible plant sound like a wanted suspect. "DNR plant specialists say people should especially keep an eye out for garlic mustard, a plant that smells like garlic and has four small white petals. The plant can completely take over entire forest floors, displacing trilliums and other wildflowers." So, the obvious solution to this is for all of us to get out there are start gathering!
Garlic mustard greens are very nutritious as they have substantial amounts of vitamins A, C, E and some of the B vitamins. In addition this wild weed contains potassium, calcium, magnesium, selenium, copper, iron and manganese as well as omega-3 fatty acids.
Alliaria petiolata (garlic mustard) has European 'roots' and was inevitably introduced to the U.S. by early settlers. It was used as a vegetable for its high vitamin A and C content.  This garlic-flavored plant was widely used in cooking, and was also used to prevent erosion.  This versatile wild edible was once used for medicinal purposes, treating gangrene and ulcers.
Check out the health benefits from eating this amazing wild edible:
Excellent for controlling weight
Improves the health of your heart
Lowers cholesterol
Thins the blood
May help prevent cancer
Strengthens the immune system
The flowers (will not appear until late May depending where you live), leaves, roots and seeds (these appear in autumn) are all edible. Leaves in any season can be eaten but once the weather gets hot, the leaves will taste bitter. Flowers can be chopped and tossed into salads. The roots can be collected in early spring and again in late fall, when no flower stalks are present.
First year growth and new spring leaves are basal and have a somewhat scalloped edge. Once the stalk grows, the leaves tend to become smaller, triangular in shape and you know for sure it is garlic mustard when you detect the scent of garlic when crushing a leaf.
Make the garlic mustard on your most wanted list! Here are some creative ideas to use this nutritious plant:
Toss some into a batch of mashed potatoes
Put some in any salad you enjoy
Add to stews or soups
Finely chop some garlic mustard, grate a carrot and add both to your favourite gelatin
Add some finely chopped leaves to quinoa or another favourite grain
Fill a glass jar with leaves and add organic apple cider vinegar; seal with a non-metal lid and let sit for 4-6 weeks to make a vinaigrette (let sit in an area in which there is no direct sunlight)
Be sure to check out the Garlic Mustard pesto recipe!
So let's end off by taking that DNR quote and make it sound positive! Be sure to keep an eye out for garlic mustard, full of vitamin A and C and other nutrients. It smells like garlic and can turn your culinary delights into nutritious culinary experiences! Be warned though – your health will thank-you!