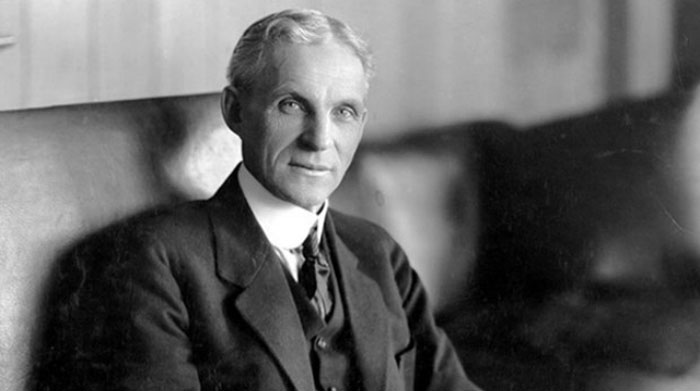 Henry T. Ford (1863-1947) grew up on a farm in Dearborn, Michigan and was just as fascinated with agriculture as he was with automobile development. He and his good friend, George Washington Carver (an expert in agricultural science) were often seen walking through the farm fields eating weed sandwiches. Ford was known to eat a lot of shepherd's purse and lamb's quarters sandwiches with mustard.
Ford strongly believed that nature provides what the human race needs to survive, especially when grown wild. Henry Ford's perspective was that a weed is a plant, just in the wrong place.
In Sidney Olson's book "Young Henry Ford: A Picture History of the First Forty Years" Olson writes that Ford was never a heavy eater and was the sort of person who always had some raisins or peanuts in his pocket.  Ford never thought much of food until he thought of the body as a machine and that the stomach was like a boiler and needed the proper fuel to run efficiently. He learned this during the time he invented the automobile.
Although Ford made several hundred thousand dollars a year his favourite lunch consisted of what he coined "roadside greens". Whenever he had guests over his meals were always made from wild edibles. Olson wrote: "There is nothing quite like a dish of stewed burdock, followed by a sandwich of soybean bread filled with milkweeds, to set up a man for an afternoon's work."
Henry Ford outlived his male 'meat and potato' friends and enjoyed dancing for hours at a time even in his 80's. He passed away at 83 years of age. The New York Times obituary read: "Mr. Ford was reported to have been in excellent health when he returned only a week ago from his annual winter visit to the Ford estate in Georgia."
It's always nice to know that there was at least one person out there who made their fortune and yet recognized that what the earth produced was all that was needed to fuel the body.
Sources
Sidney Olson. 1963. Young Henry Ford: A Picture History of the First Forty Years.  Wayne State University Press, Michigan.
New York Times:  http://www.nytimes.com/learning/general/onthisday/bday/0730.html