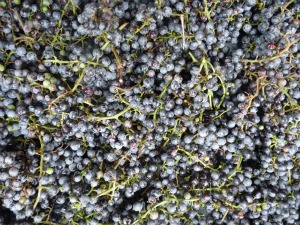 Wild grapes can be found growing in almost every climate. There are so many different varieties located in the far north, tropical areas and apparently, even the desert.  Wild grape vines 'grow like weeds', therefore they can be easily trained to grow on a fence or any structure for that matter; and they are a good choice to use as a natural screen. Wild grape vine is an excellent habitat for birds and combined with their health benefits and wide range of uses, it only makes sense to either forage for these wild edible grapes or even start growing them in your garden.
It appears that some research indicates that like 'greens', the darker the grape the more power-packed with nutrition it contains. (For example, nutritionally, spinach and kale leaves iceberg lettuce far behind.) Some research indicates that dark purple, red, and black grapes could end up being better choices for colon cancer prevention than green grapes.
Nutritionally, grapes are amazing. They contain resveratrol that increases longevity, antioxidants and antioxidant phytonutrients; and wild edible grapes also contain vitamins B1, B6, C, manganese and potassium.
It's important to remember that the grape seed and the skin contain the richest concentration of antioxidants.
Eating these small wild grapes requires re-training your taste buds because they are slightly tart. I enjoy them actually, but many people won't share my love for these.  Good news! You can capture the goodness of these by making juice, and it is very easy.
Homemade Wild Grape Juice:
Take about 4 to 6 cups of grapes and rinse them thoroughly. Place into a large pot and add water until there is about 5 centimetres of water covering the grapes. Bring to a boil and immediately reduce heat. Simmer 30 to 45 minutes.  Remove from heat and let sit for about one to two hours. As it sits, using a masher, occasionally mash the grapes.
Strain the mixture. As it strains, keep mashing until the pulp is as dry as it can be.
Add your sweetener of choice. I purchase organic blueberry syrup to use as a sweetener and this really adds extra nutrients! When this is not possible, I use organic cane sugar.
(As an alternative, you can take some or all of the pulp and put it in a blender and add this to the juice if you don't mind a little pulp!)
For more information about the nutrient-packed grape I suggest you read Grapes.