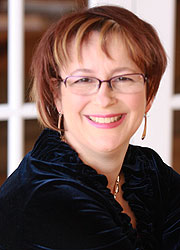 This blog article is written by Lorraine Crowston.
I was first introduced to the idea of sumac jelly through my sister Louise, a plant biologist. She and I would often walk through the local and not so local woods and Louise would often point out local edible plants. My first exposure to her doing this was when she showed me wild ginger. However, she only pointed it out and mentioned that the roots were quite small but the plant still smelled like the ginger roots we find in our grocery stores.
We were camping in New Brunswick in early spring when she excitedly cried "Fiddleheads!" and proceeded to pick some and nibble on them. My first thought? "Oh my God! She's eating something that she has picked from the ground. I may have to drive her to the hospital." I was wrong about having to drive her to the hospital. That evening we had sautéed fiddleheads with our steak dinner cooked over an open fire. I discovered that fiddleheads are delicious and I look forward to fiddlehead season every spring.
After a few more similar situations, delicate mushrooms growing in my other sister's backyard – really outstanding with Hollandaise sauce – I certainly didn't hesitate to try the sumac jelly she made. She explained the recipe. I tried it. Then I modified it by adding some spices with this recipe as a result. I hope you enjoy it.
Sumac Jelly:
One plastic shopping bag's worth of sumac "heads"
3 cups water
1 box Certo crystals
4 cups sugar
2 tablespoons lemon juice
1/4 teaspoon nutmeg
1/4 teaspoon ginger
1/2 teaspoon cinnamon
1/4 teaspoon cardamom (optional)
Recipe Instructions:
Pick and wash the sumac. I pick the sumac "heads" or tips when they are fairly deep red – usually early to mid-August.
Hold the sumac by the stem, and use a fork to comb out the red fruit into a large bowl. Remove as much of these as possible. The stems can go into the compost bin.
Cover the fruit with water and let stand overnight. Place a plate or large flat object to make sure the sumac is covered with water, otherwise they fruit floats on the surface.
With a strainer, lift out the sumac berries. Press out excess water using the bottom of a glass, cup or the back of a spoon. The berries can go into the compost.
Strain the liquid through a piece of fine 100% cotton. Check that the liquid is clear and without spices or berry pieces. Strain the liquid again if there are still impurities.
Measure 3 cups of strained infusion into a large pot.
Add the sugar and lemon juice and bring to full rolling boil on high heat.
Boil for 1 minute stirring constantly.
Remove from heat. Immediately stir in pectin. Stir and skim foam for 5 minutes.
Pour immediately into warm sterilized jars, filling to within 1/4 inch / 6 mm from the rim.
Seal while hot with sterilized two-piece lids with new centres. Do not over-tighten.
Leave at room temperature until set.
About Lorraine Crowston:
Lorraine Crowston is a graduate of George Brown College – Culinary Management program where she learned the intricacies of classical French cuisine. After working in hospitality for several years she returned to school and took the Information Technology Professional program at Lambton College. She worked for over 10 years in Information Technology as a trainer and manager.
Her passion is teaching in its many forms and she is now pursuing a Bachelor in Adult Education. It is because of this passion and her food background that Lorraine launched an on-line magazine Eating Evolution where there are great recipes that are easy to make and are matched to medical conditions. From her work on this magazine, she then went on to publish her first e-cookbook – 7 Dinners for Busy Moms and Dads available at http://www.smashwords.com. Her next cookbook venture will continue on the theme of 7s.