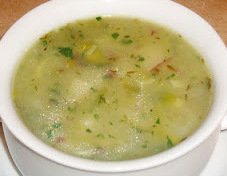 Creativity in the kitchen can result in some funky meals. I had some leeks in my fridge the other day (sadly they were store-bought, not foraged) and I wanted soup. In my recipe collection, I have a killer leek soup recipe but it requires milk in order to make it creamy and I decided against creamy.
I was totally thrilled to find stinging nettle on a recent hike but they were too small to take – but at least I feel reassured that I have a local supply to replace last year's harvest stored in mason jars.  So, away I went exploring a brand new soup.
I had some fresh-picked dandelions and decided to use these. Another great ingredient in this soup is dulce. I was fortunate to have a fabulous vacation last summer on Canada's east coast and while there discovered the amazing health benefits of dulce.  I bought several bags of it and dehydrated it. Dulce can be purchased in most health food stores.
My eyes went from jar-to-jar trying to decide what else to toss into this soup and I decided on red clover flowers for two reasons. Number one – they added colour; and second there is no shortage of nutrients in these as well as health benefits. Although whole in my jars, I rubbed them together between my hands to make them almost powder-like.
What I came up with was a nutrient-filled, healthy soup… and it tasted too much like it as well. I refused to add more salt so when all else fails, add cayenne pepper. Mine is relatively hot coming in at 90,000 Scoville heat units, more than enough to be exceedingly good for the blood flow and heart health! So, when something I make is "good for me" and tastes on the bland side, I heat it up.
While the leek and nettle soup was simmering, I made zucchini bread with buckwheat flour and organic can sugar… and with this soup, it was an amazing lunch!