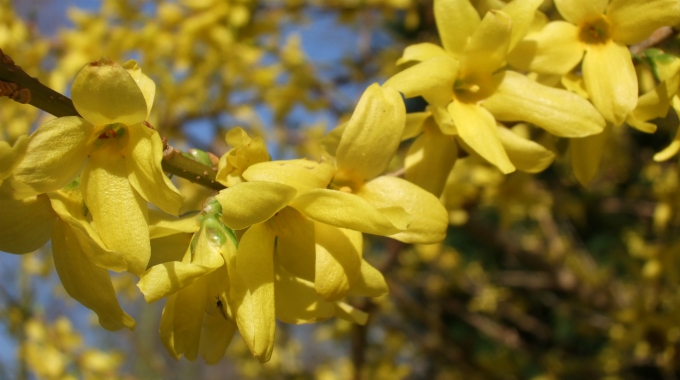 Those beautiful forsythia ornamental bushes are not just another bush. The brilliant yellow forsythia bush can grow to 3 metres (10') tall and can get as wide as 3.5 metres (12').  It has a growing speed of 30 to 60 cm (1 to 2′) per year. The flowers have four lobes and appear mostly in clusters of two to six. Forsythia bark is yellowish brown in colour and has raised lenticels (bumps). It is in the Oleacaeae family and originates from Eastern Europe and Asia.
Forsythia (Forsythia intermedia) was named after the British royal gardener William Forsyth (1737-1804) who brought the forsythia to England from China.
The most common components in Chinese herbal formulas for treating the common cold, influenza, and allergies is the forsythia fruit. With at least three thousand years of use and documentation, it is traditionally considered a detoxicant for treating so-called "toxic" and "hot" conditions. These conditions correlate with modern inflammatory and infectious diseases, including viral and bacterial infections, as well as allergies. The properties and uses of forsythia fruit now appear to have considerable scientific support.
Forsythia Properties
Forsythia fruit is used in Chinese medications as it contains several properties. It is a proven diuretic; skin tonic; emmenagogue (herbs which stimulate blood flow in the pelvic area and uterus); antiscrofulous (scrofula is a tuberculous infection of the skin on the neck); febrifuge (reduces fever); and it is a vermifuge (expels intestinal worms). It is most commonly used in Chinese medicine for colds, bronchitis, strep throat and it clears the body of toxic heat (sore throats, fever, chills, chronic skin eruptions, acne or dermatitis. Be careful though, like all herbal medicines they are to be used only after seeking the advice from a qualified health professional.
Extracts of forsythia fruit are now used in numerous types of cosmetic products, including hair care (e.g., hair growth liniments and anti-dandruff shampoos), skin care (e.g., acne cream) and foot care (e.g., athlete's foot) products for their antimicrobial and traditional detoxifying properties.
How to Use Forsythia Flowers
These beautiful flowers can be steamed and dried, used in decoctions and infusions, and made as a tea. In addition, tossing a few of these springtime beauties on a salad will impress any guest.
If you collect 750 ml (three cups) of these flowers, you can transform them into syrup! Here is an easy recipe for forsythia syrup.
The forsythia gives us another reason to enjoy springtime foraging! So next time you're out there pruning the forsythia bush, save the flowers – you'll be glad you did!