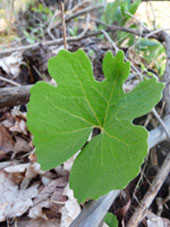 Bloodroot (Sanguinaria canadensis L.), can be commonly found in the rich soils often near hiking trails throughout eastern Canada and the U.S. The name bloodroot refers to the red sap that is in this plant; it is blood-like in colour and in consistency. The Latin name Sanguinaria means "bleeding".
The red (sometimes orangey) sap from this natural mosquito repellant has been useful in many ways. Some Native American tribes mixed bloodroot sap with animal fat and used it as face paint. It was also used to dye clothing, wool and baskets. Some people have used this to stain wooden furniture.
The rhizomes contain alkaloids that are responsible for many medicinal properties. Although bloodroot has been used to treat ulcers, ringworm, skin cancer, cramps, vomiting, coughs and sore throats this is something that only a health professional should use when treating a person. Some people have made a paste with the sap and some water and use it every day for thirty days to eliminate warts and moles. It has also been used for decades to repel insects.
This natural mosquito repellant worked wonders for my family last night when we were in the bush collecting fiddleheads. The mosquitoes were out in full force so we decided to test the power of this plant by rubbing the red sap on our skin – mosquitoes buzzed around us, but they never landed. We were thrilled to experience that the bloodroot worked for us. NEVER use this on your skin unless you have tested it first to ensure you do not have any allergic reaction. Some people find that contact with bloodroot causes skin irritation similar to poison ivy. Always test a small area first!
Bloodroot is a beautiful plant that has one single flower that has eight to twelve petals and a bright yellow center.
Be sure to take note that this is NOT an edible plant.