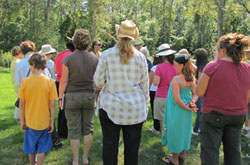 Thursday, August 30, 2012 was simply a gorgeous summer day that was wonderfully topped off with inspiration. There truly was no better place to be than Lore Gardens in Queensville, Ontario. Lorrie Mackness, owner, graciously opened his gardens so that over 60 people could take in the beauty while learning about sprouts and edible wild food. (For a Thursday afternoon, that was an impressive turnout.)
Having the pleasure of providing a wild edible tour to those who came was inspiring in more ways than one. (And some came from as far away as Hamilton and Fenelon Falls!) Not only was the overall ambiance welcoming, those who came to learn about wild edibles came with enthusiasm, cameras and notebooks. Seeing the variety of expressions of awe as people heard about the marvels of wild edibles makes this venture for me, very rewarding.  Not only were many shocked with the nutritional aspect of wild edibles, but also the medicinal. If all this wasn't enough, most of the children who came were just as eager to learn as their parents.
Lore Gardens was a stellar location to learn about plantain, St. John's wort, mullein, wood sorrel, the different varieties of clover, goldenrod, the various asters, horsetail, grape vine, lamb's quarters, sow thistle, dandelions, chickweed, as well as the uses for pine, spruce, cedars and the birch tree.
I want to thank everyone who attended and I truly hope that you start getting adventurous in the kitchen – even if it is only one weed at a time!
Thank-you Green Connections Network in York Region for this event. Special thanks to Cathy Nesbit of Cathy's Crawly Composters (& Sprout Grower) and to Lorrie Mackness. Extra special thanks to Sable Lusty who was there helping throughout the day.
The final thank-you goes to Colleen Wiebe for providing the photo to accompany this blog!
A reminder to everyone, always try new edible plants one at a time – first the skin test, then the lips, then a taste and spit and finally ingestion. Remember, just as with store-bought foods, you may have a food allergy to certain plant as many are in the same family.
Stay safe and happy foraging everyone!
Karen