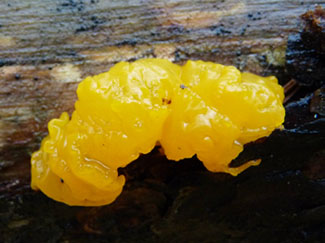 Common name: Orange Jelly Fungus
Scientific Name: Dacrymyces palmatus
Phylum:   Basidiomycota
Witch's Butter Description
This fungus develops on dead pine trees whose bark has fallen away. It is shiny, bright yellow-orange, lobed and convoluted, with an appearance somewhat like the surface of the brain (a gelatinous mass) once fully developed. It typically appears after a heavy rain fall.
Witch's butter has tuning-fork shaped basidia and multi-septate, curved-oblong spores that appear on the upper surface. Fruiting bodies are (typically) 1 to 6 cm x 2.5 cm and they form dense clusters. They have a white basal attachment. It dries to a reddish-orange or dark red-brown colour, with a tough outer membrane.
Although Tremella mesenterica is a bit similar, they are more yellow in colour, and they fruit only on hardwood trees which still have their bark. Tremella mesenterica  is also known as Witch's butter. Both these forms of Witch's butter are edible ONLY when they are boiled or steamed.
Witch's butter appears from May through November throughout most of North America, Europe, Northern Africa and parts of Asia.
Dacrymyces palmatus is saprobic; this means that it lives off of dead or decaying plant material. This is why you will find it only on fallen pine trees where there is no outer bark.
Most members of the Basidiomycota phylum (jelly fungi), are edible. They have no smell to them and they are flavourless. They add a distinctive texture to many culinary dishes (soups mostly). According to Wise Geek, it is reported in China that jelly fungi are thought to improve circulation and breathing. In addition, chemicals found in certain species of the Basidiomycota phylum are thought to have a blood thinning effect.
Witch's Butter Legend
According to Eastern European legend, when Witch's butter appears on the gate or door of one's home that home (and the family) had been targeted by the spell of a witch. The only remedy to remove the evil spell was to pierce the jelly fungus with something sharp until it died.
Sources:
National Audubon Society Field Guide to North American Mushrooms (1981) ISBN 0-394-51992-2
Duke University
Flora Finder
Flora and Fauna of the Mid-Atlantic
Wise Geek
Disclaimer/Warning:
People are poisoned every year by eating wild mushrooms, often from eating a poisonous species that resembles an edible species. Although deaths are rare, there is no cure short of a liver transplant for severe poisoning!
Do not eat any mushroom unless you are absolutely certain of its identity! Do not trust my identification of Witch's butter – be sure to cross reference my information with minimum two, preferably three other credible sources. I am not a mushroom expert – I am only relaying information according to what I have researched.