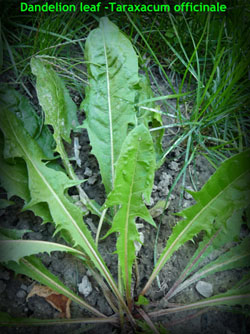 Hippocrates was an incredibly smart man who gave the world valuable words to embrace; "Let thy food be thy medicine and thy medicine be thy food."
Dandelions are a leafy green that boasts a rich source of vitamins, minerals, trace minerals, Omega-3, protein and much more. Many cultures worldwide have made the dandelion a staple in their diet. Here in North America, many are still slow at accepting the dandelion as a valuable source of food.
Kudos to University of Windsor (Canada) graduate student Carly Griffin, undergraduate Cynthia Tran, biochemistry professor Siyaram Pandey and Windsor Regional Cancer Centre oncologist Caroline Hamm. Their research uncovered that dandelion root extract caused commercially available human leukemia cells to "effectively commit suicide within 24 hours." Typically dandelion extract is made in an alcohol-based formula, but these students used a water-based formula as well as an extraction method they developed themselves.
This research was completely funded by the local Knights of Columbus, Council 9671 and this has provided the lab with a platform to test the extract on patient-derived leukemia samples.
Many fear that this discovery, along with so many other natural cancer treatments will be largely ignored or derailed by the mainstream medical community. However, on a positive note, the dandelion has received scientific acceptance as an antioxidant. Natural News reported on March 31, 2012:
"The Journal of Ethnopharmacology published a study in January 2011 which tested the effects of dandelion root tea on leukemia cells. The study showed that dandelion root tea killed leukemia cells through a process called apoptosis. It is believed that dandelion root tea signals a "kill switch" on leukemia cell receptors. Researchers found it "interesting" that dandelion root tea did not transmit the same "kill switch" signal to healthy cells. These scientists also believed that dandelion should be considered a "novel" non-toxic anti-cancer agent."
Make no mistake; eating dandelion leaves and roots nourishes your body in a multitude of ways. From a nutritional viewpoint, dandelion leaves are great; and from a medicinal viewpoint the list of health benefits is exhaustive. Dandelions (leaves and or roots) are or can:
Help with healing liver (and kidney disorders) and maintain good health;
Balance intestinal flora;
Lower bowel transit time;
Absorb toxins from bowels;
A diuretic
A laxative
Antispasmodic; and
A blood purifier.
Dandelions are also a valuable source of flavonoids (including lutein, flavoxanthin, violaxanthin and others).
Most countries have dandelions and these should be valued as an essential food source. Depending where you live, this is not dandelion season; however, many herbal shops sell dried dandelion root and leaves so you need not go without.
Remember, you are what you eat; and when you wild edibles, you will be nutrient-infused with goodness that no grocery store can offer.
Sources:
Weedy Medicine: http://www.uwindsor.ca/weedy-medicine
Natural News: http://www.naturalnews.com/035418_dandelion_cancer_therapy_herbs.html
Nutrition Facts for dandelions: http://nutritiondata.self.com/facts/vegetables-and-vegetable-products/2441/2