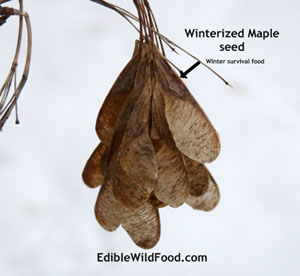 *** UPDATE ***
Winter Survival Food is now available! This full colour booklet shows you how to forage for wild edibles during the lean winter months, giving your body the nutrition it needs to survive.
****************
When we were children one of the fond memories many of us share was playing with the maple tree "helicopters". These helicopters were also known as "whirlees" or keys. No matter what you remember them as, they are actually called samaras. Maple seeds earned their name as being helicopters because they are amazing auto-rotating helicopters. They begin rotating almost from the precise moment they are released from the tree. Even poorly-shaped seeds rotate with ease.
Maple tree seeds are edible, contain protein, and can be used as survival food in winter months, however like many wild edibles the best flavours are enjoyed in spring. As the year progresses they tend to gain a hint of bitterness and by the time winter rolls in, what is left is shriveled and somewhat bitter; but make no mistake, they are still edible.  (I have not been able to get confirmation, however, all edible seeds contain essential fatty acids, therefore it is assumed that these seeds have some levels of Omega-3, 6 and 9.)
To eat maple tree seeds you need to remove the wings. Some people will eat the seed pod as a trail snack however, many people like to roast or boil them.
Maple tree seeds are similar to acorns; the taste can vary from tree-to-tree so trying some from several trees is an option.  Better still, the ones that taste bitter, use these for cooking because adding spices can sure make them taste great.
Ok, so now you know they're edible here are a few ideas to get you on your way to enjoying this culinary delight.
How to Eat Maple Tree Seeds
If you feel eating maple seeds raw just doesn't do it for your taste buds then boil them for about 15 minutes or until soft. Drain and season with whatever you think you will enjoy (butter and spices).
Toss spring maple seeds into a salad.
Roast maple tree seeds and eat them as a snack or toss onto a salad or as a garnish on soup. You can roast them by placing the seeds on a baking sheet and sprinkle with spices you like. Bake at 350 degrees Fahrenheit for about 8 to 10 minutes.
Try drying out the seeds for something totally different. You can use a food dehydrator, drying in the sun on a hot, dry day, or in the oven at a very low temperature. Once they are dried grind them into powder and use them as a spice, as flour, or as a soup thickener.
If you want mashed potatoes like you've never had them before, mash your potatoes and add some fresh or roasted maple seeds into the mash!
This year give maple seeds a try, they're free for the taking and in many areas in abundance!