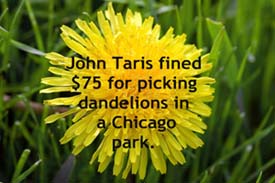 I read an article this morning in the Chicago Tribune (written by John Kass on June 28, 2013) that has me all fired up. I'm so upset I have to focus this energy on doing something positive; I urge all of you who are reading this to please follow me in doing the same.
John Taris is a retired tailor barely surviving on social security and now he is forced to pay a fine because he picked dandelions. John was approached by a police officer, asked what was he doing, was asked for his driver's license and in return he was fined. No warnings, just a ticket. John Kass so eloquently stated in his article, "A few weeks ago he (Taris) was hunted down by a Cook County Forest Preserve cop and caught red-handed in possession of dandelion greens."
Yes, John was on conservation grounds, but given how prolific dandelions are, why the hullabaloo? More to the point, he should have at the very least been given a warning not to be on those grounds collecting "weeds".
Taris is 75 years old and has been happily married to his wife Joanne for 53 years. Being retired they live on only $1,500 a month which pays the bills, barely affords them the ability to buy good food and certainly does not allow them any room for extras in life let alone being able to pay a fine of $75. After all the bills are paid there is only $100 left for groceries. To help make ends meet, John forages for dandelions. This is how they live after 48 years of being U.S. taxpayers. To make matters worse, John and Joanne have a 50 year old son who is very ill and has to live at home.
After the economy crashed in Greece, John and Joanne were left with nothing (they had investments there) and the bank has put a freeze on their home preventing them from selling because they are in arrears with their taxes.  To help catch up paying off this debt, John works three days a week at a local grocery store and earns $8.00 an hour.
I will provide a link below for you to read the entire story that appeared in the Chicago Tribune. This blog is a plea for all of you out there to help make this time of peril for this retired couple and transform it into a moment a joy.
Please, I urge you to go to your local Western Union and give whatever you can to help make this horrible nightmare for John and Joanne into a day they will always remember. John will be in court on July 9, 2013; let's send him there with not only the $75 he needs, but as much as we all can share to show John and Joanne we stand united in support.
Make your donation as soon as possible and this is all the information you need to take with you:
John Taris
4940 North Keeler Avenue
Chicago, Illinois, 60630-2714
USA
773-283-0705
Be sure to send it to this Western Union location:
Western Union (773-283-2787)
4459 West Lawrence Avenue
Chicago, Illinois 60630
Chicago Tribune:
Crime fighters try a new way to uproot thugs and punks — weed out the flower pickers