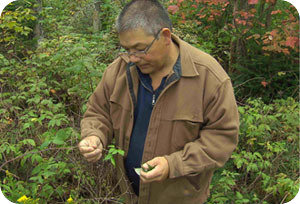 Image courtesy of Tell Tale Productions
This Sunday (December 8, 2013), CBC Televisions Land & Sea will air a half hour documentary on foraging in Canada's Maritimes. This will air on CBC across Canada at 12 noon (regardless of your time zone). Here is part of their media release:
Foraging for food in the wilderness might seem like something our ancestors did, but during the past decade it's attracted a whole new generation of followers from far and wide. With over 75 naturally occurring plants, 24 types of berries, and 31 varieties of edible mushrooms – the Maritimes are overflowing with tasty wild treats.
Wild Food is a half hour documentary that showcases the abundance of delicious, nutritious, and organic food that's growing in the forests and meadows around the Maritimes and the foraging enthusiasts who are keeping the tradition alive by introducing it to a new generation.
The film features a member of the Mi'kmaq first nation who forages as a part of a traditional way of life, a New Brunswick man who harvests fiddleheads and mushrooms to ship to markets around the world, and a chef near Yarmouth who offers award-winning culinary vacations and turns foraged food into haute cuisine. These experienced foragers are not only earning a living from wild edibles, they're passionate about sharing the art of wild food foraging with anyone that's interested – just don't ask them to reveal their secret harvesting location.
Wild Food was written and directed by award-winning Halifax filmmaker Lorna Kirk (A Little Bit of Freedom / Nova Scotia Islands) and produced by Edward Peill from Halifax-based Tell Tale Productions Inc.
"The foragers we met and talked to while filming are the gurus of wild food in the Maritimes," says writer/director Kirk. "There's an abundance of wild food in our forests but you really need to know what you're doing. Most are safe to eat, but there are others that can kill you so you need to be careful."
 Wild Food was produced in association with CBC TV with funding from Film and Creative Industries Nova Scotia, and Provincial and Federal tax credits.
If you live outside of Canada or if you are in Canada and miss this documentary there will be a link available after the show airs at www.cbc.ca/landandsea.
Be sure to tune in as this promises to be very exciting and kudos to Tell Tale Productions and CBC for bringing the world of foraging to mainstream television!
To view the trailer:  http://www.youtube.com/watch?v=9nroe5FUFxk&feature=youtu.be
Join the FB Event Page: https://www.facebook.com/events/200200243501605/
Be sure to tune in and check out this great documentary!