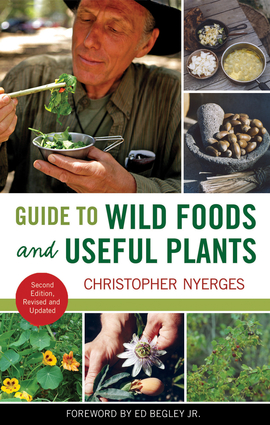 (Earlier this month a representative from Chicago Review Press Incorporated emailed me asking if I would be interested in reviewing a book about plant identification. Needless to say I was intrigued and somewhat honoured that I was asked. The following is my review on the Guide to Wild Plants and Useful Plants.)
Long time forager Christopher Nyerges has been a survival skills educator for forty years and his newly released Guide to Wild Plants and Useful Plants brings a refreshing look to the many guide books that are available on today's market.
Guide to Wild Plants and Useful Plants is not an identification field guide but it is a guide that provides more information to the reader about specific plants. This is a guide that is great for the person who is just starting to learn about wild edibles or for the person who has very little knowledge on this topic.
This book's forward was written by an actor who has spent time with Christopher in California learning about wild plants. Ed Begley Jr. raises a great point that most children today can identify many company logos and very few plants. In today's world it is very important for not just children to know about wild edible food but adults as well.
Christopher's book contains descriptions, information and photos for 67 edible plants and four poisonous plants. Although many of the plants in this publication are only located in the southern regions (possibly only the southwest) of the U.S., there are a variety of plants included that can be found throughout the U.S. and Canada.
Each plant includes a complete description, beneficial properties, the growing cycle, medicinal uses, detrimental properties (if any) and where to find it. I found that the detrimental properties were something 'new' because many other publications don't mention the possible negatives. Although edible properties are provided in other publications, from all I have read I believe Christopher offers much more information in his book.
What I found refreshing is that under detrimental properties if Nyerges didn't have any, he asked the reader if there are any authenticated reports that they know of and to let him know of these. There are far too many writers out there that would not have the humility to ask for their reader's input.
Another unique aspect to this book is that Christopher has provided the reader with a pictorial key to leaf shapes. The leaves are drawn to scale so that the reader can have a better understanding of the leaf size he or she is trying to identify. He does this for the fruits and seeds as well.
What is sure to benefit those who are new to foraging is that in the glossary there isn't just a physical description. Some of the contents in the glossary the author provided a sketch in addition to the physical description which gives someone new to foraging a better understanding of what certain terms mean. This is most definitely a plus for the novice forager.
The appendix called "Safe Families" is a bonus. Many books neglect to inform their readers that there are safe families out there (plant families that are entirely safe to eat). Of course not all of them will taste terrific, but at least you won't be harmed from eating them.
There are a couple of areas in which Christopher has provided wrong information. They are not a 'do or die' scenario but none-the-less wrong information. One error is on page 74. Chicory does not contain insulin – it has inulin. (He has made the same mistake on page 36 for burdock.)
A personal bugaboo I have about every book I have read that describes chicory is how authors refer to using the roots as a coffee alternative. There is no substitute for coffee – nothing. Chicory root makes a great herbal tea, not a coffee substitute.
Christopher Nyerges has eloquently packaged into a 5 1/2  x 8 1/2"  paperback book a terrific guide for the novice forager. For those that like to have several books in their collection, this is a must-have as it is thoroughly researched and it comes from an authoritative voice.   All in all the Guide to Wild Plants and Useful Plants is a good read.