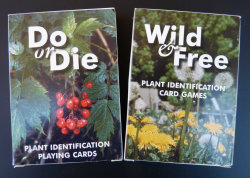 LeArta Moulton is a wild food educator in Utah and has been teaching people how to forage for over twenty years. She has always had a fascination to learn about edible plants. She gained a lot of knowledge from one of the best herbologists out there, Dr. John Christopher. (Dr. Christopher developed a training program for herbalists and organized The School of Natural Healing in 1953.)
There is not a doubt that years of experience have made LeArta an expert not just as a wild food educator but also on good health. Her passion for eating healthy rubbed off on her children and they have been very supportive of her 'wild edible' journey. LeArta has a few health books available at her website and she also has a couple of other products that I feel are important to own.
Do or Die
This is an appropriate title for a set of playing cards that helps you to learn what plants are the most deadly (including fungi) as well as edible plants. This deck of playing cards has full colour photo images with plant descriptions and other useful information.
Wild & Free
Wild & Free playing cards also have full colour images with plant descriptions and each card lets you know if the plant is edible, medicinal, both edible and medicinal, or poisonous.
In this world of electronic handheld devices and computers it's really nice to 'detox' and get back to basics once in a while. Playing card games has been a great pastime for many decades and what better way to help gain your knowledge while playing a card game.
Either set (or both) are a fun way to increase your knowledge of plants and your ability to identify them. They certainly make an incredible gift for the hard-to-buy person who has an interest in learning about wild edibles.
For those who consider themselves a prepper a set of cards is a must-have in your bug out bag and no matter how full it is, there is always room for a deck of cards.
Over the years there have been campers and hikers who have lost their way and had to survive until they either found their way out or help arrived. Learning about wild edible plants was once a basic life skill which thankfully, is slowly coming back.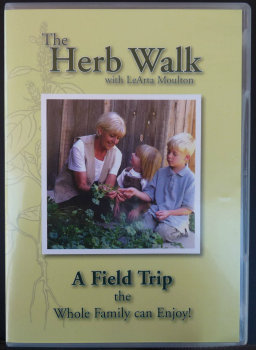 The Herb Walk Video
LeArta Moulton created an instructional video about wild edibles and it comes with a 96-page reference manual about the plants in the video.
Her video shows the viewer how to tell the difference between look-a-like plants, describes medicinal effects as well as edible parts, and includes poisonous plants as well. In addition she shows over 130 plants that are found in the world's temperate zones so they are not plants that are strictly specific to her area.
To find out more information about LeArta's products please visit her website, LeArta.com.