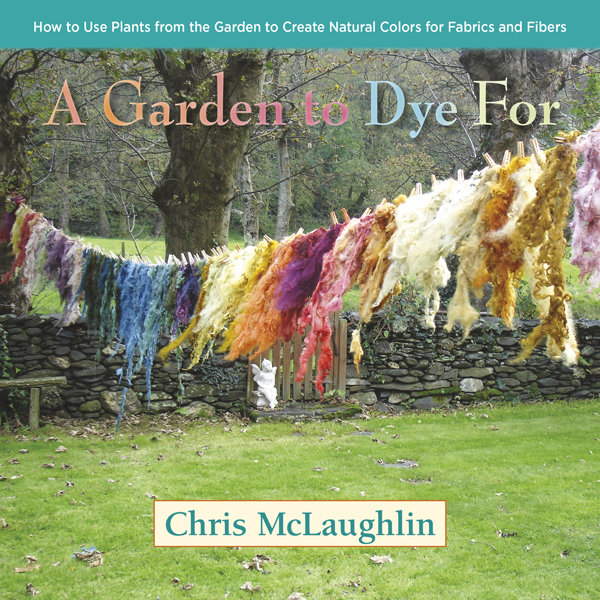 Depending where you are it isn't too late to be growing plants in order to reap the benefits of dyeing. There are no shortage of plants out there that can be used to naturally and safely for dyeing fabrics and fibres.
A Garden to Dye For is a superior book that was recently published by Chris McLaughlin. I've had the pleasure of knowing Chris for some time and her passion for writing about gardens, or anything in a garden emits through every word she writes. Her love for plants started when she was only ten years old and the roots for this love grow deeper as every year goes by.
Being the thorough writer she is Chris makes sure right off the bat that the reader won't be lost in a vortex of terminology that leaves them spinning. She starts off the book by educating the reader on some of the terminology you'll come across as you read the book.  Chris has a personable writing style so that it's almost as though she's in the room speaking with you and not at you. This to me makes reading about garden dyes that much more pleasurable.
Chris' book is the perfect book if you love plants – not just the edible variety – any plant! If you are the creative type then this is a must have because the ideas you will generate from reading A Garden to Dye For will ignite an inner passion for making gifts and becoming an experimenter.
This book is perfectly designed from cover-to-cover. There are stellar quality photos, the text is well laid out and even the watercoloured background image on every page creates a calming yet inviting ambiance to enhance the reader's experience with the book.   Everything is outlined in an easy-to-understand language as well.
Chris takes the reader into the garden and she describes not only what plants make excellent dye, what parts to use, what time of year to use them and when to harvest them. A Garden to Dye For features over 40 plants that we can grow for an all-natural, customized colour palette. A dyer's garden can be a mosaic of flowers, herbs, roots and fruits that lend us their pigments to beautify countless areas of our lives. Some of the plants Chris features in her book include wild edibles; naturally that captures my attention!
Whether you are a beginner or simply curious about learning how to dye fabrics and fibres then A Garden to Dye For is a must have for your personal library. There is no other book that I am aware of that lays everything out in such a way that makes reading this book not just educational but fun!
A Garden to Dye For is available at: Amazon
Be sure to "like" A Garden to Dye For at Facebook as well!