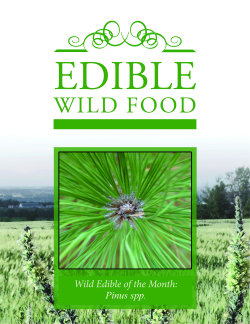 ****************************************
UPDATE: we no longer offer monthly subscriptions. However, the flipbooks mentioned below are now available as wild edible PDFs ($5 per issue).
****************************************
It's finally here and so far the response has been great!  Wild Edible of the Month is a monthly flipbook publication that can be downloaded for offline viewing.
So many people have encouraged me to write a book about foraging but let's face it; the market for these types of books is over saturated. I wanted to come up with something new, something different, something people would love, and something that provides a lot of information for as little cost as possible.
Wild Edible of the Month is a monthly publication that provides a plethora of information on one edible per month. Everything you could possibly want to know is in each issue. You'll learn the history of the plant, interesting facts, nutritional information, medicinal information, recipes, how to harvest, and so much more. Inevitably this is a wild edible encyclopedia in the making.
Imagine, for only $3 per month you'll get everything you need to know about wild edibles, one plant (or tree) at a time. Comprehensive information will be at your fingertips to help you identify and use each plant safely. The best part of all is that your subscription doesn't just end with receiving a monthly issue. Should you ever have any questions about a plant there is always support available; very few authors provide their readers this service for free.
If you use a computer (PC or Mac) you have the option to save the flipbook as a PDF and print it. If you use a mobile device there is a free app you can download for offline viewing as well.
This is a must-have for those who want to learn as much as they can about wild edibles. If you aren't much into foraging then this is a perfect gift to buy for that hard-to-buy for person who wants to learn about foraging.