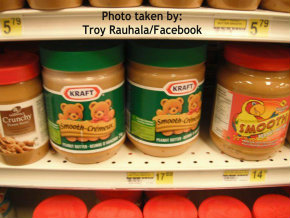 Imagine walking into your local grocery store and having to pay over $8 for a small cauliflower, over $9 for a pound of butter or over $17 for a jar of peanut butter (and not even healthy peanut butter). This would be enough to put most of us into a state of shock yet these everyday not-so-low prices are what people in Iqaluit have to try to digest every day.         
There is the Nutrition North program in Canada in which the federal government subsidizes retailers instead of the cost of shipping food yet this is highly controversial because residents are not seeing a discount reflected in their shopping bill. Much of the produce that is in the stores there has not been properly kept and what is on the shelves for people to buy is spoiling.
Countless people can't go to the local grocery store because they simply have no money to afford much of anything. Some of these individuals go to the local dump looking for what scraps they can find to make a meal. The numbers of people who frequent the soup kitchen and the food bank is rising.
There is a food crisis in the north and yet for the rest of us Canadians we're wasting more than $31 billion worth of food every year; and when energy, water and other resource costs are factored in the true cost could be up to three times that much according to a new report.
Consulting firm Value Chain Management International published a report earlier this month that tabulates the total monetary cost of the millions of kilograms of food that goes to waste every year in Canadian homes, restaurants and grocery stores. This report acknowledges that the total doesn't even include what's being wasted at federal institutions like hospitals, prisons, jails, and schools because there isn't reliable data on that. It is estimated that when all is said and done, the true cost of wasted food is actually closer to $100 billion a year per year.
Food Activism
Leesee Papatsie has been very active over the past three years trying to create an awareness and get changes made. Her efforts have paid off as mainstream news in Canada has reported about this situation.
Leesee has been instrumental in helping to organize Nunavut-wide food price protests and she started the "Feeding My Family" group on Facebook.
She recalls her younger years growing up feeling hungry but not starving. Leesee says that there were times in which tea and bannock was all they ate for days. She even remembers what homes had food and how she would go garbage picking for leftovers.
A report released in March found that 68 per cent of Inuit do not have consistent access to healthy, nutritious food; and this is what the World Health Organization defines as food insecurity. The Inuit have the highest food insecurity rate of any indigenous population in the developed world with 35 per cent of households not having enough to eat.
Traditional Inuit
In the past Inuit depended on each day's hunt for food and sometimes foraged as well. Other than a few berries, a root called "mahu" and the contents of the caribou's stomach; they ate only meat and fish, raw or slightly cooked. They would consume (and/or use) almost the entire animal, including the head, bone marrow, heart and other organs. This diet provided all the necessary starch, protein, fat, vitamins and minerals the Inuit needed to survive. However, if the migrating caribou took a different route, or the Arctic char spawned late, or their dogs were unable to locate the seals' breathing holes, or a fierce blizzard kept the hunters inside for days, they were faced with starvation.
People have inhabited the Canadian Arctic for 4,000 years. The people of the Dorset, Thule and Inuit cultures were innovative and knew how to use the limited resources to be self-sufficient. They made their own clothes, hunted, and fished. They also were able to take care of their own health care. Dog teams enabled them to travel great distances. When European explorers came to the Arctic looking for a Northwest Passage in the late 1500's, they interacted with some Inuit villages, but did not significantly impact the Inuit lifestyle. It was during the 1800's when the whaling industry moved to the Arctic, that the Inuit lifestyle began to change. The whalers, and later on merchants and fur traders, brought new tools and technology to the Inuit, as well as devastating diseases which took hundreds of lives. Many people took to the easier lifestyle and in that process some traditions were lost. For some, the ability to be self-sustained was removed and they are now dependent on a system that is failing them.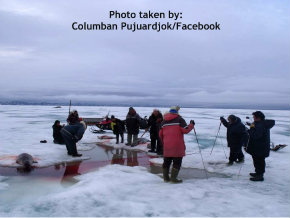 Today's Inuit
According to Leesee Papatsie today's Inuit share their meat. Part of the northern culture includes traditional harvesting and meat is shared among families. Although some people are hungry, she believes there is no starvation in the north because Inuit share what they have. She says, "In the smaller communities people tend to eat traditional food but the younger generation are the ones who rely more store bought food."
Possible Solutions
Hunting
Many Inuit, more specifically young adults and youth have lost some of their traditions and hunting is one of them. Programs should be offered to these residents in the far north teaching them how to trap, hunt and fish. These programs would need to include how to skin, preserve and store long term.
Foraging
According to the Arctic Institute at the University of Calgary "no truly Arctic plant is poisonous, nor are there known to be poisonous mushrooms, roots, or berries anywhere beyond the limit of trees." Many people live north of the tree line and are not taking advantage of what free food is out there.
There isn't an abundance of greenery in the Arctic due to the lack of sunlight and very short growing season but there is food to be foraged. Cowberries (Vaccinium Vitis-Idaea), whortleberry (Vaccinium uliginosum), black crowberry (Empetrum nigrum), red bearberry (Arctostaphylos alpina), Kinnikinik (Arctostaphylos Uva-Ursi), red current (Ribes triste),   and cloudberry (Rubus Chamaemorus) have been enjoyed by some.
Some plants found north of the tree line include purple saxifrage, mountain avens, arctic poppy, arctic willow, kobresia, sedges, cottongrass, moss, dwarf birch, northern Labrador tea, alder, alpine foxtail, wood rush, wire rush, white arctic heather, arctic bladder campion, yellow oxytrope, mastodon flower, arctic lousewort, mountain sorrel, river beauty, and chickweed.
Very few plant species can survive under such harsh conditions. Plants that do grow north of the tree line are generally stunted. Nonetheless, there are some plants that can be foraged and stored for use throughout the winter.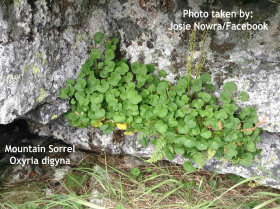 Foraging and more importantly hunting are skills that need to be taught in order for residents of the far north to once again, become self-sustained. This may be the only immediate solution to a problem that has no solutions on the foreseeable horizon.
Sources:
http://www.msn.com/en-ca/news/canada/hunger-pains-food-prices-hamper-nunavut/ar-BBgO1A3
http://www.huffingtonpost.ca/2014/06/16/northmart-protest-iqaluit-food-prices_n_5499027.html
http://www.cbc.ca/news/business/food-waste-costs-canada-31b-a-year-report-says-1.2869708?cmp=fbtl&utm_content=buffer54fdd&utm_medium=social&utm_source=facebook.com&utm_campaign=buffer
http://www.pressprogress.ca/en/post/video-leona-aglukkaqs-bizarre-response-news-people-look-food-garbage-dump
http://www.fredericback.com/cultures-du-monde/zone-polaire/la-nourriture.en.shtml
http://canadianbiodiversity.mcgill.ca/english/ecozones/northernarctic/northernarctic.htm
http://pubs.aina.ucalgary.ca/arctic/arctic6-1-15.pdf
http://www.learnalberta.ca/content/ssognc/inuitlifestyle/