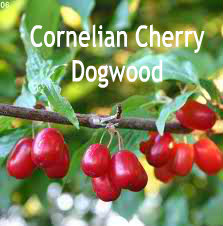 Trends come and go yet picking something to eat from a plant that is visually interesting can hardly go out of style. Let's discuss some plants that would look good plus produce food in the landscape.
Landscaping typically adds value to a property, and the right combinations can increase property prices well beyond the cost of the landscaping. As I see it, since all landscaping costs money, why not use a few plants that will yield an additional return on the investment? Berry bushes and fruiting trees will pay off in another way, the satisfaction and the food from home grown goodies.
Let's look at some trees, shrubs, as well as flowers that will work in the landscape and also help with the grocery bill.
When it comes to landscaping with trees, no matter if a new yard or an old one gets a makeover, adding fruit could work for you. Trees grow and last for many years, so think through the location as well as the specific tree you will plant. Pear trees and some apple trees last longer than their 'flowering' counterparts that don't yield a crop of delicious fruit. Peaches and plums are shorter lived trees. Careful selection for the most disease resistant varieties would be advised. Of the hundreds of possible choices, you maybe shouldn't plant a red delicious for instance.
Besides apples and pears and peaches and plums, what are some other fruiting trees you might plant at your place?  How about quince? There are newer and improved varieties; the old ones were too hard to eat. How about a mulberry? They are so delicious to pick and eat fresh from the tree, and there are white ones that won't stain the sidewalk or car. If you live where it almost never gets below zero, you might try an olive tree or a fig. Some of the newer self-fruitful sweet cherries make large shade trees plus bear fruit. Pie cherries are smaller, less attractive in appearance, but easier to harvest. How about jujubes? These Chinese dates are hardy in the Kentucky, Tennessee, and North Carolina area. Serviceberries, also called sarvis, are to white as redbud trees are to pink—but with the bonus of fruit that are "oh, so sweet". Medlar, pawpaw, and persimmon are also options. The pawpaw particularly looks nice in a yard with its magnolia-like leaves.
There are nut trees that will work. The chestnut, walnut, hickory, pecan, hazels, even the ginkgo can produce nuts as well as shade. The native chestnut probably will die of blight if you plant it, but the Chinese chestnut and several hybrids are blight resistant. Hardy northern pecans may be smaller in size, but will taste just as super. They make a decent shade tree. Walnuts, well there is the English walnut and the butternut, but the black walnut is most well known. It is a messy tree, but the nuts are delicious, and the timber is very valuable when the tree becomes old. Most advise only planting male ginkgo trees, but if you don't plant female trees you won't get any nuts.
It's not just the ginkgo, with fruiting trees there will be dropped fruits and some mess in the grass or mulch.
Pruning and caring for the trees will help with the trouble, but knowing the tree and making a best choice on variety (there are over 500 varieties of apples for instance) can help you to pick a spot for your fruiting tree that will be less of a bother. And, if you can't possibly use several bushels of fruit from a full sized tree, consider a dwarf tree (made possible by your favorite tree grafted onto a dwarfing rootstock).
Blueberries are a favorite for landscaping use. These plants need a sunny spot with acidic soil that also has plenty of organic matter. Good drainage is a must, as is water during drought conditions. The Blueray variety has red twigs, Bluegold has yellow fall color, Toro has a lovely bush with red fall color, Legacy is evergreen, there are over 50 varieties of blueberries you can select from for your landscaping and eating pleasures. Some only grow two feet tall, other up to eight feet or more. Some are hardy to 25 below zero; others will do well in central Florida.
Honeyberry is a nice landscaping plant that also has edible fruit early in the spring. Currants, gooseberries, cranberries, we could keep going. Some of the dogwoods have edible berries as do some viburnums. Most landscapers use viburnums in their landscape plans—why not choose one that has edible berries?
Hazelnut bushes will work for back of the bed or for screening or hedging. Even almonds might work if you have a spot where frost is not a problem. Rose bushes have fruits called 'rose hips', which are high in vitamin C. Likewise, the prickly pear cactus bears some nice edible fruits.
If you have an arbor, pergola, fence, or trellis, you may want to have a grapevine, magnolia vine, or a goji berry vine or a passionflower.  For the home brew afficinado, try some hops vines.
Landscaping with edibles includes herbs, flowers and vegetables too. What does a little bottle of rubbed sage cost at the grocery? This cute grey leaved plant looks good in a planter or in the landscape bed. And I for one prefer recently harvest herbs to those out of bottles at the store. Mints of most all types are easy to grow.
Jerusalem artichokes look like sunflowers in the landscape. But, dig the plant up and you get small "potatoes" that are OK for diabetics to consume. Horseradish is a lovely foliage plant; you can grow your own roots in a bed of good garden soil.
Vegetable gardens can be worked into a yard, but things like red cabbage and flowering kale in a flower bed or a container garden are no-brainers. So are nasturtiums and oxalis, the leaves are wonderful in salads. Colorful lettuce, mustard, chard, peppers, tomatoes … the list is exhaustive!
Before the spring rush, select some seeds and plants and perhaps some trees to add to your landscape. You'll be able to pick and eat in a landscaped paradise!
This blog post is courtesy of Max Phelps. He is a professional landscaper in Somerset, Kentucky. Please visit his website at Rock Castles Landscaping.