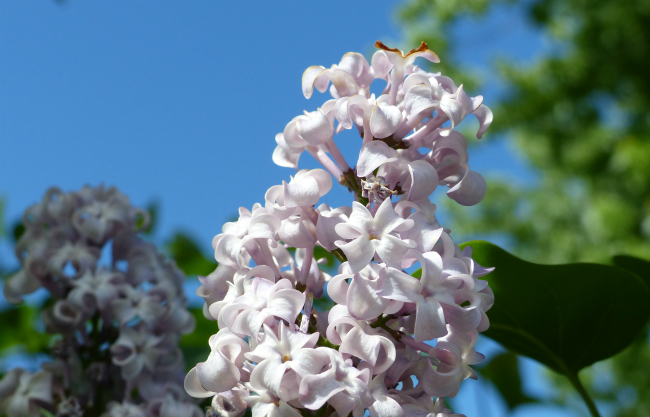 The common lilac (Syringa species) is a member of the Oleaceae (Olive) family and they are one of the harbingers of springtime. I am really fortunate to regularly drive on roads that are lined with lilacs; apart from their visual beauty the scent as you drive is incredibly aromatic. The lilac shrub is native to Europe and Asia and it is deciduous shrub. Lilac flowers are hermaphrodite (have both male and female organs) and are pollinated by bees, moths and butterflies. Lilac thrives in most soils, but it tends to dislike acid soils. Its preference is a well-drained alkaline loam in a warm sunny location. It is usually found growing in hedges, woodlands, along roads, and in dappled shade.
Many people are aware that lilac blossoms are edible, though they definitely smell much better than they taste. A springtime delight is to make a lilac cold-water infusion. Simply fill a glass pitcher (or a large glass) with fresh lilac blossoms then add water. Allow to steep for an hour. You can choose to strain before serving in glasses or let them remain in the water and simply refill. So long as you're getting scent from them as you drink you can keep reusing them.
Scatter a few lilac blossoms on fresh green salads. The blossoms can be candied and preserved to decorate desserts later in the year. Having lilac scented honey is the ultimate treat when it comes to combining the health goodness of local, unpasteurized honey and the intoxicating scent of lilacs. All you have to do is choose a sterilized jar and fill it with lilac flowers. Our honey until the flowers are all covered and place lid on. Let infuse for about six weeks – and there is no need to strain afterwards! Enjoy on bread or drizzled over a bowl of fresh cut fruit. Remember though, only the flowers are the edible part of the common lilac bush.
So, these flowers are edible but do they offer us any health benefits? As it turns out they are great for our eyes – and not just to look at. Apparently colour (in flowers) may actually have a nutritional advantage. In a Scientific American article it was reported that among the major determinants of floral colour are carotenoids (organic pigments found predominantly in plants), especially lutein. Lutein and zeaxanthin are the only carotenoids found in the retina and lens of the eye.
In flowers, the lutein is contained in a highly specific, rare form that is not found in many other foods. This has been linked to improved eye health, specifically, a reduced risk of macular degeneration and cataracts. It would seem that when we choose flowers for their aesthetic properties, we may inadvertently also be selecting those that offer some unique health advantages.
In particular not only lilac flowers are good for your eye health marigolds are as well. For some very interesting information about this click here.
So if the lilacs are past their best before date now and there is still time to plant then start planting lots of marigolds! (Be sure you know how they were grown though otherwise the toxins will negate the health benefits.)
Happy Foraging!