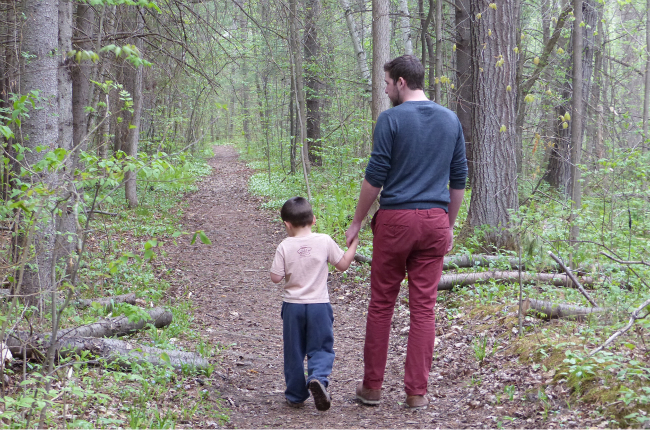 4-season foraging and hiking can be a love affair you'll always embrace when you are motivated and in need of some detox time from being indoors. Heck, sometimes just getting out on a trail or into the bush somewhere is like a mini-vacation from day-to-day living – so much so that when you head home it feels somewhat depressing to return to routine.
One thing is for sure, we all need to get out and take in some fresh air and exercise preferably on a daily basis. This can be difficult to fit into a hectic schedule but if you find as much time as you can every week to get outdoors your body will thank you tenfold. Too many of us are devoid of regular exercise and fresh air and these are an essential component to good health.
Many people love being outdoors in the spring, summer and autumn yet cringe at the thought of going out for hikes in winter. Along with spring, summer and autumn hiking comes an abundant of foraging opportunities.
Winter Foraging and Hiking
Winter does have its negative side but there are so many positives as well if you're dressed properly. There are many "warm" winter days in which the temperature may still be below freezing but if there is no wind a long hike in a forest or through fields can be quite rejuvenating. In fact, having water with you to re-hydrate in winter is just as important as in summer. If the sun is out and you're out hiking for a long period of time dehydration can still set in. It is so critical that you are regularly hydrating while you're out there because drinking too much water too fast can have negative effects on the body.
Foraging in winter can be slim pickings depending where you live but if you're able to be out in a snow-covered forest there is still some food to be had. Conifers are the obvious and of course should you come along a chunk of chaga it's like striking gold. Don't be caught without the proper tools – most chaga requires a hatchet to get it off the birch tree.
Winter foraging and hiking can be so peaceful and somewhat intoxicating. When the trees are snow covered, there is no breeze, you're properly dressed, the birds are singing, and you hear the crunching of the snow beneath your feet there is a feeling of calm that comes over you no matter how stressed out you may feel. Finding some conifer branches to take home is fun and should you find chaga then that truly is a score.
4-Season Foraging and Hiking
No matter what the season is when you head out foraging be sure you have everything you need to ensure your foraging journey is a safe one. Have a backpack with some essentials in it such as water, snacks (if you're going out for a few hours), foraging tools, bags to store your foraged goods in, a compass if you're going into an unknown area, your cell phone, and a first aid kit. The most common complaint hikers and foragers share are blisters from new or improper footwear. Be sure to have not only band aids in your backpack but other first aid needs as well so you can tend to your blister in a timely manner. Better to have and not need than to need and not have.
4-season foraging and hiking are activities that will help you reconnect with nature and discover an incredible way to de-stress and rejuvenate yourself. Whether you hike in a forest, a field, a local park or even your neighbourhood, it's really important to get out there for exercise and fresh air – your body will thank you.
What is there to harvest in the winter? How would you survive in winter if you had to? Get a copy of Winter Survival Food and find out!