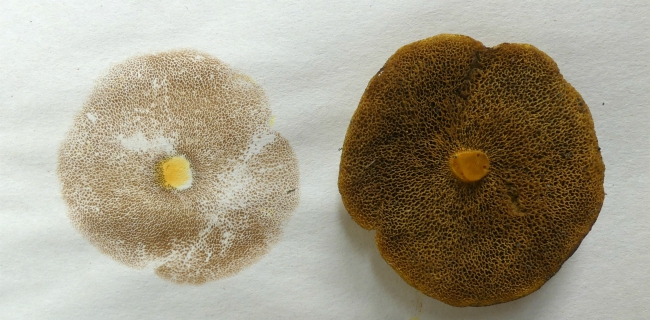 Making spore prints at home is easy and can help you in the identification process of a mushroom. Spore prints also make great artwork if you're looking for a new way to appreciate mushrooms and create something unique!
What You Will Need
You'll need relatively mature mushrooms. Any mushrooms that are young, have a covering over the gills or pores are not likely to drop their spores in order for you to obtain a print. On the other hand, mushrooms that are old and "past their best before date" have dropped their spores and you'll be blanked.
White paper – the thicker the better because some mushroom samples can be quite wet and "soak" the paper. Black paper can be used as well. To help in the identification process only white paper is required because no matter the colour the spores will be, you'll see the result. If you want to use spore prints as artwork then having minimum two specimens is required – one to go on white paper and one on the black. (Unless you already know what colour the spores will be.)
Collecting Spores on Paper
Carefully cut the stem off and place the cap (with the gills or pores faced downward), on a piece of paper.
Place a cup, glass or bowl upside-down over the top of your mushroom(s) to prevent any air currents from affecting the spores leaving a proper print. Once covered, leave undisturbed as spores will fall directly downward.
Some spore prints can appear within a few hours; however it's best to wait overnight just to be sure you get a good print. When you remove the cup and carefully lift the mushroom cap, you should find a print.
If you discover that the specimen you have is an edible mushroom, do NOT eat it. At this point your specimen is only good for further study. If you do not want to study it then toss it in your garden.
Collecting Spores on Glass
Wash two pieces of identical glass with soapy water and dry. Wipe before use to ensure there are no watermarks. Follow the above instructions on one piece of glass. When the spore print is complete then carefully place the second piece of glass onto the printed glass. Create a bind between both plates by joining the two plates with duct tape.
This method allows you to save your prints at room temperature for years, in a cool location and not in sunlight. Should you use the glass method then your prints can be framed or even used in stain glass creations.
Using Spore Prints as Art
Saving your spore print long-term can also be done by using clear shelf paper or placed in a clear sandwich bag. Be sure not to display or store your prints in an area that gets direct sunlight. Create a collage, photo album or display them any other way in which you will enjoy for months or years to come!