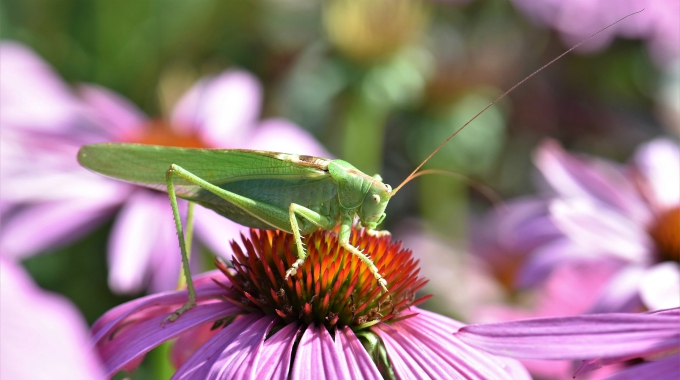 There's plenty to chirp about when you incorporate crickets into your daily diet. Millions of people worldwide are eating a wide variety of insects and thriving. Crickets provide a complete food protein because they naturally contain the right balance of essential and non-essential amino acids. There is no shortage of reasons why we shouldn't be adding these insects into our diet. Cricket powder is concentrated because crickets lose 80% of their weight when roasted, so it's definitely "earthy". Cricket flour has a pleasant mild taste that has a slight nutty flavour.
Reasons to Eat Crickets
Cricket vs. Chicken per 100 grams
| | | | | | |
| --- | --- | --- | --- | --- | --- |
| Per 100 grams | Protein | Calcium | Potassium | Iron | Zinc |
| Crickets | 68 grams | 171 mg | 1127 mg | 8.7 mg | 20.2 mg |
| Chicken | 21.3 grams | 12 mg | 229 mg | .89 mg | 1.54 mg |
Protein
Crickets are gram-for-gram one of the most efficient protein sources on the planet. By dry weight, a single cricket ranges between 65% to 70% pure protein. In contrast, beef is between 17% to 40% protein, with the rest being primarily fat content. It registers as a complete source of protein. What this means is that it contains all the essential branched-chain amino acids that the human body needs for healthy muscle development.
Iron
Iron is an essential mineral that helps carry oxygen through our body in the form of hemoglobin. Did you know that our body absorbs iron from animal products better than iron from plant products? More importantly though, cricket flour in comparison is loaded with iron. It contains 5.9mg per 100 grams, which is almost twice more than the amount you get from spinach, 3.5mg per 100 grams.
Vitamin B12
Vitamin B12 is a nutrient that helps nerve and blood cells stay healthy while creating the most important element of our body, our DNA. B12 has been gaining widespread popularity, and is found in many of the products that claim to increase energy. Cricket flour is an excellent source of vitamin B12, also called cobalamin, a vitamin that is not found in plants. It's critical to brain and nervous system health, to the conversion of food into energy, and to DNA synthesis and red blood cell formation among other things. Based on a set of lab samples, cricket powder contains 2 to 3 mcg of vitamin B12 per 10 grams. To put that into context, B12, gram for gram crickets contain:
56 times more than chicken
36 times more than milk
20 times more than pork
17 times more than eggs
8 times more than beef
7 times more than salmon
Cricket Powder Nutritional Values
100 grams of cricket powder (according to an analysis done by Maxxam Analytics) contains:
Energy 1973kJ (472kCal)
Protein (g) 58.76
Fat (g) 24
Saturated Fat (g) 8.48
Trans Fat (g) .218
Cholesterol (mg) 228
Carbohydrates (g) 8.4
Fibre, total dietary (g) 6.0
Sugars (g) 0.5
Ash (g) 6.5
Calcium (g) 0.11
Iron (g) 0.002
Potassium (g) 1.1
Sodium (g) 0.31
Omega – 3 (g) 2.81
Omega – 6 (g) 6.28
Saturate Fatty Acids (g) 8.48
Cis-Monounsaturated (g) 5.14
Cis-Polyunsaturated (g) 9.09
B-12 (ug) 24
Sustainability
Current livestock farming practices release a large amount greenhouse gas emissions (which includes ammonia and methane) into the environment.
According to the University of California, Irvine, California is considered a "cow" state and in 2015 had 5.2 million cows, which is about 9% of the U.S. total. Hoever, California is suffering from a severe water shortage yet it has the 4th or 5th largest cattle inventory by volume. One pound of dry protein from a cow takes between 1700 and 2500 gallons of water. By comparison, one pound of protein from crickets requires only 1 gallon of water. Water in California is a finite and dwindling resource; crickets take 1/10th the water and 1/6th the feed to get the same amount of quality protein as you would from cattle.
According to Aketta, a comparison was demonstrated between 30 grams of beef and 30 grams of roasted whole or powdered crickets. It shows that beef uses:
38 x more land.
23 x more water.
12 times more feed.
1815 times more greenhouse gases.
Insects in Your Kitchen
Eating insects creates a whole new look at insects in your kitchen. Of course giving up meat entirely is not going to happen, but knowing there are viable alternatives is great news for those willing to make healthy changes to their diet. Should you ever be in Cambodia you may be pleasantly surprised trying a Bug Mac at Bugs Cafe. A Bug Mac contains patties made from a secret recipe of assorted bugs.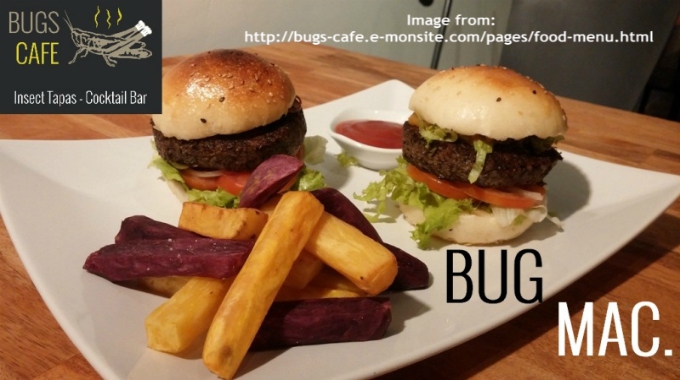 Massimo Reverberi, an innovative entrepreneur, founded Bugsolutely in 2016. Based in Bangkok, Thailand, Bugsolutely, is part of a niche market of packaged foods using cricket flour. It is the only pasta that contains 20 percent cricket flour.
If you're motivated to try edible insects then you can help support EdibleWildFood.com by making your purchases through the link at our store page. There are no shortage of ideas out there on how to integrate cricket powder into your diet. Try my Shitake Cricket Power Balls and you'll be convinced that eating crickets is not what you envisioned it to be!