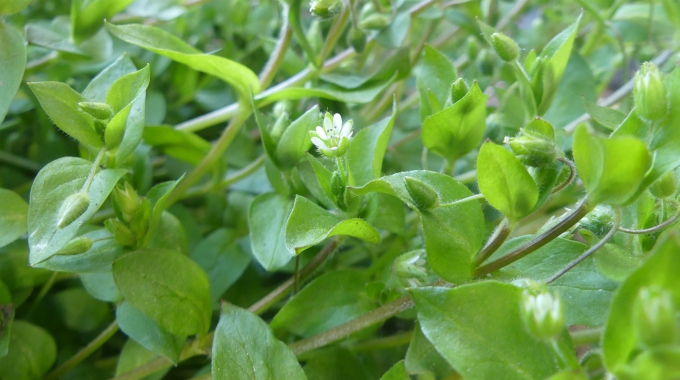 If you're new to foraging then chickweed is truly one of the best introductory edible wild plants that tastes great. This is an amazing plant that can be used as the base of a salad, or it can replace spinach in most recipes without altering the flavour much. The best part of all is that the flower, stems and leaves are all edible.
Chickweed's botanical name, Stellaria media, means little stars. This plant sure does shine like a star when it comes to the nutrition it holds as well as medicinal abilities. This incredible edible is multi-functional because its presence in your garden decreases insect damage to other plants.
Eating all aerial parts of the chickweed will provide your body with significant levels of vitamins A, B1, B2, B3, B6, B9, C, D, as well as calcium, copper, iron, magnesium, manganese, potassium, selenium, silica, and zinc.
If you make an infusion with this nutritious plant it can help you to eliminate fat cells. This can be made using either fresh or dried chickweed. According to Susan Weed, she says drinking two cups of chickweed infusion a day helps to shed unwanted weight. Her method is to measure one ounce of dried chickweed and place it in a one quart container. Fill the container with boiled water, put a lid on it and let it sit four hours. Strain it then drink hot or cold. Be sure to store unused infusion in the fridge to keep it from spoiling.
Chickweed's goodness does not end there. This edible contains saponins which are really soapy substances. This may not sound too appealing however saponins emulsify and help increase permeability of our cell membranes. What this translates to is that when you eat this plant, the saponins are increasing the body's ability to absorb nutrients, and in particular minerals. In addition, chickweed's saponins aid in breaking down disease-causing bacteria, benign tumors, cysts, and other unwanted matter in the body. Chickweed also thickens mucus in the respiratory and the digestive systems.
Chickweed as Herbal Medicine
This edible wild food has been used in ointments since the Middle Ages. Chickweed has the ability to soothe and relieve itching as well as inflammation of many types of skin ailments from poison ivy to more common conditions such as psoriasis, eczema, burns and cuts. Using chickweed as a poultice works great to rid bacterial infections on an open cut. It is important to toss away the poulticed chickweed after using because it will contain the bacteria you are trying to rid yourself of.
If your child gets pink eye and you know where there is chickweed then all you need to do is get a small handful and crush it until its juices are visible then apply the plant matter on the infected eye. Leave it on for five minutes then reapply with fresh chickweed. Depending on the severity of the infection, doing this twice a day until the eye is clear is required. Susan Weed states that there are often results after the first application.
Chickweed has been used in folk medicine for other conditions including indigestion, stomach ulcers, coughs, rheumatoid arthritis, psoriasis, and as a blood cleanser.
Identifying Chickweed
Chickweed grows in a unique, intertwined, and almost a radial manner, and it has small white star-shaped flowers hence its Latin name, Stellaria media. Stems have a thin line of white hair that grows in a weave-like pattern. Chickweed leaves are oval with pointed tips that are smooth or slightly hairy. It grows fairly low to the ground and it thrives in many areas in a wide variety of habitats and soil textures. It is one of the most common weeds founds in lawns but it also grows well in cultivated fields, pastures, waste areas and sometimes even under deciduous forests.
There are about 25 species of chickweed worldwide. Other common names include stitchwort, starweed, tongue grass and winter weed.
Grow Chickweed
The plant grows easily in a moist soil and full sun or partial shade. It can be very lush and vigorous when grown in a fertile soil, but in infertile soils it will flower and set seed while still very small. A very common garden weed, chickweed grows, flowers and sets seed all year round. The flowers open in the morning and remain open for about 12 hours. They do not open in dull weather. The leaves fold up at night time, enfolding and protecting the tender buds of new shoots.
Chickweed's flavour is a refreshing burst of spring goodness. This versatile food is nutritious, easy to grow and easy to harvest that tastes delicious. As a fresh salad, or  gently steamed as a side dish; in a smoothie or in soup, this is one wild edible food that most people love.