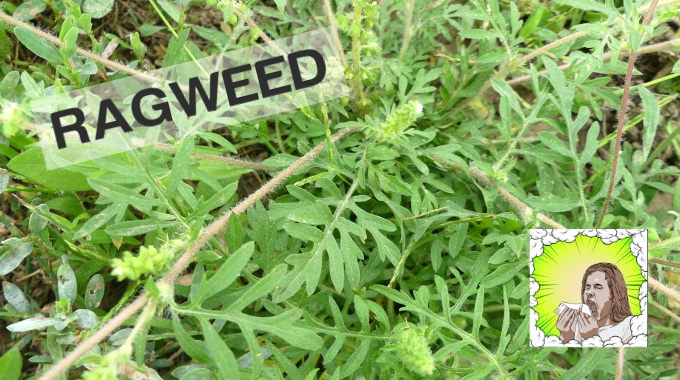 Common ragweed, (Ambrosia artemisiifolia) is an annual flowering herbaceous plant that is native to North America. However, ragweed can be found in many areas worldwide. Ragweed pollen (not goldenrod) is known for its high potential to cause type I allergic reactions in late summer and autumn and represents a major health problem in Canada, U.S., and Mexico as well as several countries in Europe, South America, Africa, Asia, Australia and N.Z. Hay fever is a seasonal allergy to airborne particles characterized by itchy eyes, runny nose, nasal congestion, sneezing, itchy throat, and excess mucus; ragweed is generally the culprit as it is wind pollinated, not insect pollinated.
Wind Pollinated vs Insect Pollinated Plants
Wind pollinated plants (as well as grasses and trees) emit pollens which trigger allergic responses. Insect pollinated plants from flower producers do not usually cause a problem.
Insect-pollinated plants generally have showy or colorful flowers that are often fragrant and/or nectar-bearing. Wind-pollinated plants produce much more pollen than their insect-pollinated counterparts. These wind-borne pollens are the culprits that irritate susceptible sinuses.
Ragweed is one of the nastiest of the allergy producers. These plants (there are 17 species) that can produce up to a billion grains of pollen per plant. And those pollen grains weigh virtually nothing so they are carried many miles by the wind. In fact, according to the Asthma and Allergy Foundation of America, ragweed pollen has been measured in the air 400 miles out to sea and two miles up into the atmosphere.
Depending on geographic location, ragweed generally begins flowering in mid-July and can continue until the first significant frost. These plants thrive in vacant lots, roadside gravel and along boulevards in our neighborhoods and towns.
This annual plant is in the Asteraceae family along with sunflowers, asters, goldenrod and dandelions. Most of the other plants in this family are insect pollinated, and not a problem. Allergic reactions to pollen are generally the result of breathing air that contains pollen grains. However, people who are extremely sensitive to ragweed might be affected by the pollen of others in the family if they smell the flower directly.
Remember that ragweed pollen is air borne and it can land anywhere, on nearby goldenrod and other plants, in your garden, on your car, and even on you.
Goldenrod
Goldenrod has been falsely accused for years as being the main culprit for seasonal allergies yet its flowers are insect pollinated, and that pollen is quite heavy and sticky.
Goldenrod is actually used an herbal antidote for seasonal ragweed allergies. According to the Herbal Academy, goldenrod's "astringent property calms runny eyes, runny nose, and sneezing that comes with late summer and early fall allergies."
An interesting note, goldenrods are the most important late-season pollinator plants. Honey bees frequently collect large amounts of goldenrod nectar prior to winter; other bees use the pollen to provision late-season nests. Many beekeepers in the northeast depend on goldenrod as their colonies' primary winter food source and often report honey gains of 50 to 80 pounds per colony. Goldenrod honey is typically dark, thick, and quick to granulate. The average sugar concentration in the nectar of some goldenrod species has been reported at approximately 33 percent.
Ragweed Pollen and Pets
Our pets are not immune to seasonal allergies. The main signs of allergies for dogs and cats are itchiness and scratching.
Face – rubbing of the face, including around the eyes, ears, and muzzle.
Paws – dogs with atopy (genetic allergy tendencies) often bite, chew and or lick their paws.
Groin and underarm area – there may be chewing, licking, biting or scratching.
Eventually, the itchiness may involve the whole body. Respiratory signs, such as sneezing, wheezing, and coughing, rarely occur. It is important to have your dog seen by a vet because if left untreated, atopy can lead to secondary infections, including bacterial and yeast infections.
Ragweed's Financial Cost to Human Health
Although hay fever (allergic rhinitis) is not a life-threatening condition, complications can occur and the condition can significantly impair quality of life, which leads to a number of indirect costs.
Ragweed pollen contributes to one of the most common chronic health conditions impacting North Americans. It affects up to 20 per cent of Canadians and as many as 23 million Americans, according to the Allergy, Asthma and Immunology Society of Ontario and the American College of Allergy, Asthma, and Immunology. In fact, allergens in ragweed are in the offending pollen that contributes to about 75 per cent of all hay fever cases (according to a 2010 report by the National Wildlife Federation).
Allergies to ragweed are responsible for the biggest single over-the-counter sales of medication. According to information in a paper published at Carlton University, every year in the United States, hay fever costs Americans over $11 billion dollars in medical costs and more than $13 million in doctors' visits. There are more than four million missed or low productivity workdays and over $700 million in lost productivity due to the allergy.
In Europe, allergies caused by the common ragweed, also impact millions, and in Europe, around 13.5 million people suffer with symptoms, resulting in 7.4 billion Euros worth of health costs per year.
In the province of Quebec alone, the Quebec Lung Association says medical complications due to hay fever and other seasonal allergies cost the health system $157 million each year.
Solutions
In a press release (July 31, 2020) the Quebec Lung Association in collaboration with the Ville-Marie borough as host city and with the support of the Ministry of Health and Social Services is currently holding the 2020 provincial ragweed eradication campaign. It aims to mobilize cities and municipalities in Quebec to be proactive in the management of ragweed as well as to educate Quebecers about its adverse health effects. This is the fourteenth year they have joined forces to battle ragweed. 1 in 8 Quebecers suffer from an allergic respiratory reaction with symptoms ranging from discomfort to loss of control in chronic diseases such as asthma.
In 2015, Hudson, Quebec went one step further. Hudson paid residents to pull out ragweed, offering five cents a pound. Julie Schroeder, the town's director of parks and recreation, even upped the ante with a grand prize. She put up $100 of her own money to sweeten the deal.
It is refreshing to see these local governments in that province take action.
Take action yourself, if you see ragweed – pull it out!
Imagine, there are garlic mustard plant pulls and that is a very useful plant. Organize a ragweed pull! This is by far more productive and has incredible rewards for the health of ragweed sufferers.
Perhaps let your neighbors know that some of those plants on their property are ragweed. If the town or city you live in has noxious weed by-laws and their boulevards and public areas have ragweed, don't complain to those around you as this accomplishes nothing. Call the by-laws office and notify them where the ragweed is so they can remove it. If we all do a little, the results can be great.
Best of all – every time you are out foraging or hiking, and you see ragweed, just rip it out of the ground. You just never know, it could help others.
Sources:
https://cals.arizona.edu/yavapai/publications/yavcobulletins/Plants%20That%20May%20Cause%20Allergies.pdf
https://cumming.ucalgary.ca/sites/default/files/teams/41/tips-dealing-outdoor-june-2018.pdf
https://www.karger.com/Article/FullText/487997
https://blog.nwf.org/2014/09/the-goldenrod-allergy-myth/
https://theherbalacademy.com/health-benefits-of-goldenrod/
https://lakeviewanimalhospital.ca/2018/09/06/ragweed-allergy-dogs/#:~:text=Paws%20%E2%80%93%20dogs%20with%20atopy%20often,%2C%20and%20coughing%2C%20rarely%20occur
https://asthmaandallergies.org/asthma-allergies/ragweed-allergy/
https://cusjc.ca/catalyst/project/the-cost-of-more-ragweed/
https://www.storey.com/article/five-plants-to-help-pollinators/
https://montreal.ctvnews.ca/it-s-time-to-rip-out-ragweed-1.3037524
https://www.sciencedaily.com/releases/2020/04/200421134422.htm#:~:text=They%20estimate%20that%2013.5%20million,the%20unintended%20arrival%20of%20O
https://www.ctvnews.ca/canada/quebec-town-takes-new-approach-to-eradicating-ragweed-1.2533643
https://pq.poumon.ca/herbe-a-poux-100-villes-pour-faire-sans/