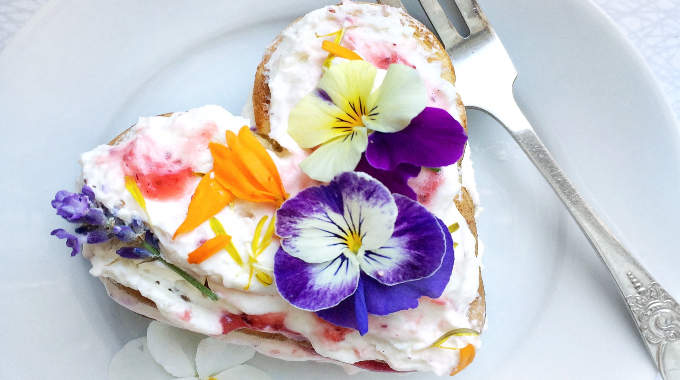 Flowers add colour and beauty to any garden so why not take advantage of what they have to offer us in the kitchen? Cooking and garnishing with flowers were, and still are, quite popular in many countries. When designing an edible landscape, think about adding in edible flowers because flower cookery has a long and most interesting history.
Flowers were believed to be cleansing for the body and many varieties have medicinal properties. For example, roses are rich in antioxidants and marigolds are grown to extract lutein and zeaxanthin for supplements. The best antioxidants for eye care are lutein and zeaxanthin and marigolds are the best source for this. In fact, not only are marigolds the best source for this, where lutein is in nature, zeaxanthin is also present. Many studies show that lutein and zeaxanthin reduce the risk of chronic eye diseases.
Edible Flower History
Many individuals think of culinary flowers as a fad, yet edible flowers have an unbroken line of edible and medicinal uses for thousands of years. Their first recorded mention was in 140 B.C., and even today rosewater and orange flower water are used daily in many Middle Eastern and south Asian homes. If you think about it, edible flowers are common including lavender in Herbes de Provence, and of course hops which are used in beer. Saffron, although expensive, is the dried stigmas of the saffron crocus (Crocus sativus). The male sterile triploid plant has been propagated vegetatively for at least 3600 years making this one of the oldest known edible flowers.
Flowers have been used for culinary purposes since as far back as Ancient Greece, Rome and Egypt. In fact, the first recorded mention of edible flowers being used was in 140 B.C. The Romans were known to use violets and roses in their food, the flower petals were commonly eaten in salads or as garnishes.
Ancient Chinese herbalists also recorded both medicinal and culinary uses for flowers. The early Incas, Aztecs and Hindus included flowers in some of their most important rituals.
Nearly every early civilization recognized calendula, whose petals were served as food and piled on alters. Calendula was also commonly referred to as pot marigold by medieval monks, who used it in their cooking pots. In addition, carnation petals were a key ingredient in Chartreuse, a liquor that was created by French monks during the 1600s.
The Victorians often used flowers in their food, associating them with refinement and elegance. Most commonly, the Victorians would use candied violets and borage to decorate cakes and desserts. Violets remain popular today for use in desserts and sweets, most notably in violet cream chocolates. Bee balm, also known as monarda, was used by the Victorians as a treatment for bee stings and was also used (along with other wild plants) as a substitute for tea when black tea became unavailable during the Boston Tea Party in 1773. During the Renaissance, it was common for audiences of plays to be served rose-petal infused water and stewed primroses.
Historically, petals of flowers were dried and included in tea blends. Popular tea flowers were hibiscus, rose, jasmine and bee balm, some of which we still enjoy today. Other countries use flowers for culinary uses today more often than we do here in the U.S. and Canada. For example, in China and Japan chrysanthemum petals are often stirred into soup or included with tea. Sakura, or Japanese cherry blossoms, are also incredibly popular in Japanese cuisine, from flavouring sake and yokan (a traditional jellied dessert).  Papaya flowers are often used in Indian cuisine, commonly included in salads and cooked with potatoes. Banana blossom is also frequently found in South Indian cooking.
Chrysanthemum, also called mums were first cultivated in China about 3,500 year ago, and they have been used for many millennia. Mums got to Japan in the 8th century and are the flower of the emperor's family. Yellow and white mums (Chrysanthemum morifolium) are the ones usually used in the kitchen. Although the blossoms are boiled to make a sweet drink, raw, they are somewhat bitter. Chrysanthemums are also used to flavour wine. In addition, the leaves are useful in the kitchen as well and are sold in many Asian grocery stores.
Edible Flower Cautions
Eating flowers is not for everyone. If you have pollen allergies, you might want to avoid eating edible flowers altogether. Here are some other tips:
Identify the flower exactly and eat only edible flowers and edible parts of those flowers.
Never purchase flowers from a garden centre that uses chemicals.
Never buy flowers for edible reasons from a florist.
Do not treat your edible flowers with pesticides or chemical fertilizers. Instead, if you have problems with pests, cut the flower back and encourage regrowth instead.
Do not pick faded, dusty, old or discoloured flowers in your garden (or when foraging) that are near a road or an area that animals use.
Pick your flowers at a cool time of day; mid to late morning is often best. Remove the pistils and stamen and be sure to examine your flowers for insects (although many of these are edible as well).
Always remember to use flowers sparingly in your recipes due to the digestive complications that can occur with a large consumption rate.  Always complete the edibility test before ingesting any flower!
What Cultivated Flowers Are Edible?
Begonias (Begonia X tuberosa): The leaves, flowers, and stems are edible. Blossoms have a citrusy-sour taste. The petals are used in salads and as a garnish.  Stems, also, can be used in place of rhubarb.  The flowers and stems contain oxalic acid and should not be consumed by individuals suffering from gout, kidney stones, or rheumatism.
Calendula (Calendula officinalis): Flavours range from spicy to bitter, tangy to peppery.  Their sharp taste resembles saffron.  Sprinkle them on soups, pasta or rice dishes, herb butters, and salads.  Petals add a yellow tint to soups, spreads, and scrambled eggs.  Only the petals are edible.
Carnations (Dianthus caryophyllus): Steep in wine, candy them, or use as cake decoration. To use the surprisingly sweet petals in desserts, cut them away from the bitter white base of the flower.
Chrysanthemums (Chrysanthemum coronarium): Tangy, slightly bitter, and they range in colours.  T faint peppery to mild cauliflower.  Use petals only.  Young leaves are commonly used in Asian fare.
Cornflower (Centaurea cynaus): Also called bachelor's button.  They have a slightly sweet to spicy, clove-like flavour.  This flower is a natural food dye but is commonly used as garnish.
Fuchsia (Fuchsia X hybrida): Blooms have a slightly acidic flavour.  Vibrant colours and graceful shape make it ideal as garnish.
Gladiolus (Gladiolus spp): Flowers (remove anthers) have a nondescript flavour, but individual petals can be tossed in salads.
Hibiscus (Hibiscus rosa-sinensis): Somewhat a cranberry-like flavour with citrus overtones. Use slightly acidic petals sparingly.
Hollyhock (Alcea rosea) – Very bland tasting flavour.
Impatiens (Impatiens wallerana) – The flowers have a sweet flavour.  They can be used as a garnish in salads or floated in drinks.
Johnny-Jump-Ups (Viola tricolor) – Lovely yellow, white and purple blooms have a mild wintergreen flavour and can be used in salads, to decorate cakes, or served with soft cheese.  They are also a great addition to drinks, soups, desserts or salads.
Lavender (Lavandula angustifolia): Without a doubt this flower has a multitude of uses in the kitchen and in personal care products. It has a sweet, floral flavour that can be quite powerful.
Marigold (Tagetes spp.) – The marigold flower petals are great in salads as they have a citrus-like flavour.
Nasturtiums (Tropaeolum majus) – Nasturtiums rank among the most common edible flowers.  Blossoms have a peppery flavour.  Leaves add peppery tang to salads.  Pickled seed pods can be a substitute for capers.
Pansy (Viola X wittrockiana) – Pansies have a slightly sweet yet grassy flavour.  If you eat only the petals, the flavour is mild, but if you eat the whole flower, there is a somewhat green overtone.  Use them as garnishes, in fruit salads, green salad, desserts or in soups.
Roses (Rosa rugosa or Rosa gallica officinalis): Sweet, with subtle undertones ranging from fruit to mint to spice. All roses are edible, with the flavour being more pronounced in the darker varieties.
Scented Geraniums (Pelargonium spp.) The flower flavour differs according to the variety.  For example, a lemon-scented geranium would have lemon-scented flowers.  Sprinkle them over desserts and in refreshing drinks or freeze in ice cubes.
Snap Dragon (Antirrhinum majus) – Delicate garden variety can be bland to bitter.  Flavours depend on type, color, and soil conditions.  Not really a desirable flower to eat.
Yucca Petals (Yucca spp.) – The white yucca flower is crunchy with a mildly sweet taste (a hint of artichoke).  In the spring, they can be used in salads and as a garnish.
Grow some edible flowers this and every year. Adding colour and beauty to your meals, desserts and baked treats will bring smiles and joy to all those who enjoy your culinary endeavors!
Be sure to check out Eye Candy Pancakes!
Resources:

https://www.nutraingredients-usa.com/Article/2010/07/15/Marigold-dominates-eye-health-ingredients-supply#
https://www.artisans-and-adventurers.com/blogs/artisans/history-uses-benefits-of-edible-flowers
https://whatscookingamerica.net/EdibleFlowers/EdibleFlowersMain.htm#:~:text=Remove%20the%20sepals%20of%20all,yucca%2C%20and%20lavender%20are%20edible.