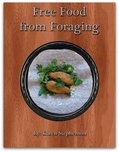 We have a pandemic of poor nutrition right here in North America. Every day, far too many people are either under-the-weather, fatigued, are ill, or have serious health issues. Obesity is also a serious problem. Why are so many people always ill? Free Food from Foraging has some of the answers. With nutritionally-depleted foods, irradiation, chemical additives and preservatives, we are not getting the food nutrition our bodies need. There are really no surprises why so many people suffer from countless ailments. Food – rather the lack of food nutrition is the root cause of far too many health ailments according to many professionals.
Two out of three cancers are linked to diet. There are more "food-like" choices available, yet less real food in terms of nutrition. There is a zeitgeist that organic food is the way to go for real nutrition – organic food one generation ago was simply called food.
It isn't just food choices that have changed; there's been a massive advertising scheme that is wrong on all accounts. Have you ever looked at the "vitamin enriched blueberry bagels" offered by some advertisers? Sounds pretty good doesn't it? Read the ingredients – there are no blueberries in many "blueberry products" such as muffins, waffles or bagels. What they do contain is something called "blueberry bits" – this is actually a legal name for a man-made product that consists of nothing more than chemicals – there are no blueberries. The food industry is hard at work making us feel full – full of food-like products that contribute to poor nutrition and in some cases, cancer.
Free Food from Foraging takes the reader into an in-depth look at the food "system" and how to improve on daily nutrition intake by simply looking at the ground they walk on. In addition, this 5×7 book contains valuable information that will help the reader make some life-altering food choices including information about:
Soil nutrients
How to identify your soil type for gardening by looking at what weeds grow in your garden
Vitamins – buyer beware
Vitamins and Supplements May Be Banned?
Food Prices Rising
Food Miles
Free Food from Foraging also looks at one of the main reasons why our weather is changing; the Arctic ice is melting and there is no going back – nuclear detonations and radiation dumping in the Arctic Circle has caused massive changes and this is why weather patterns are changing. This is important information to have because it will affect what foods can be grown where.
Information is shock resistance and although Free Food from Foraging is only twenty pages – they are packed with valuable information that can help better your nutrition intake.
Free Food from Foraging is only $4 and is available at EdibleWildFood.com. Once you know what to look for, free food is out there – all you have to do is go get it!