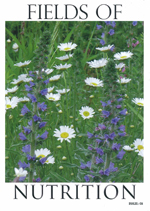 Fields of Nutrition is at long last a reality! After months of planning, research and writing, Fields of Nutrition (Issue 1) has arrived!
This easy-to-carry magazine contains thirty wild edibles that are commonly found in many countries around the world. Each plant has a comprehensive written description as well as close up photographs to help identify. In addition each plant write up includes some interesting facts, health benefits, as well as vitamin, mineral and nutrition content.
It certainly isn't an understatement to say we have a pandemic of poor health happening, more so in the U.S. and Canada. Far too many people are "under-the-weather," lethargic, depressed, and so on; and one of the main causes to this is poor nutrition. Vegetables and fruits in grocery stores lack their full potential for nutrients for a variety of reasons. Some of these reasons include:
Vegetables grown in nutrient-depleted soils grow nutrient-depleted produce.
Food miles – the longer produce takes from the time it is picked to the time we consume it means nutrient depletion.
Take a nutrient-depleted vegetable, and by the time it gets to our dinner table from the farmer's field means that the nutrition you think you are eating isn't there.
There is not a doubt that eating locally-grown produce is important but it sometimes it is not enough, or affordable. Learning what weeds are edible and how you can integrate them into your daily diet via your meals or by making tea is a way to take this nutrition and feel healthy. It is important to remember as well, eliminating items that contribute to poor health is critical (processed foods, including white sugar, white flour and regular table salt) otherwise conquering poor health will not be easy. (This also includes negative lifestyle choices.)
Fields of Nutrition will help you on a journey in which there is no going back. Weeds grow on our planet for a reason; yes they are integral to the ecological system, but they are also food. They do not grow in order for chemical companies to make massive profits by destroying them. For thousands of years, wild edibles were food and thanks to many professional foragers and several cultures, they are making their way back into kitchens world-wide.
Be part of the exciting transition to optimum health by starting to learn how to identify what nutrient-rich free food grows all around you!
To order your copy today click here!