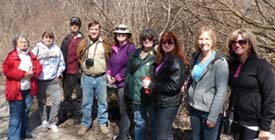 There truly could not have been a better day to meet new people and spend a glorious afternoon at Ojibway Park for an early spring wild edibles walk.
I spent the weekend in the Windsor area and under sunny skies and 12°C it sure felt great being outside. Windsor-Essex is in Ontario's southernmost region and Pelee Island, not far from Windsor boasts being on the same latitude as northern California. Apparently the autumns in this area linger the longest of anywhere in Canada. Windsor is right across the river from Detroit, Michigan.
Ojibway is located in an area of poorly drained, sandy soil over a thick bed of clay. This area tends to be saturated with water in spring and very dry by mid-summer. Yesterday, it was actually quite dry.  This is a unique area are it has a tremendous variety of vegetation and animal life. As we just started our walk a deer came within 8 metres of us. This area has rare plants as well as insects, reptiles, birds and mammals.
According to the Ojibway Park website:
"No other site in Ontario supports such a concentration of rare species. Plants designated endangered, threatened or extirpated in Canada are noted in the list. Phlox pilosa and Platanthera ciliaris that are known from old literature reports without the support of specimens are excluded from this list. Eleven species have not been recorded in the past 25 years. Several insect species and ten plant species found at Ojibway (such as the Slender Bush-clover, Lespedeza virginica, shown in the photograph) are not known from elsewhere in Ontario or Canada."
Ojibway Park was strictly our classroom because sampling or taking any plants from this area is strictly forbidden. It is however a truly incredible location to learn about wild edibles.
Some plants that we saw included: mustards, wild strawberries, asters, henbit, violets, Creeping Charlie, cleavers, and . There were numerous others but because the growth is too young they are far too difficult to identify until they grow larger.
We also saw grape vines as well as various grasses, sedges, conifers and ostrich ferns. Several species of lichen grow in this area as well. My favourite tree (the birch tree), does not grow as a native tree in this area because the summers are too hot.
Ojibway Park was a great place to spend a beautiful Saturday afternoon and I always enjoy meeting people and helping them get started on their wild edible journey.
A heartfelt thank-you to everyone who came out and this includes The Windsor Star's Kristie Pearce and Dax Melmer. To read the Windsor Star article about the walk & talk click here!