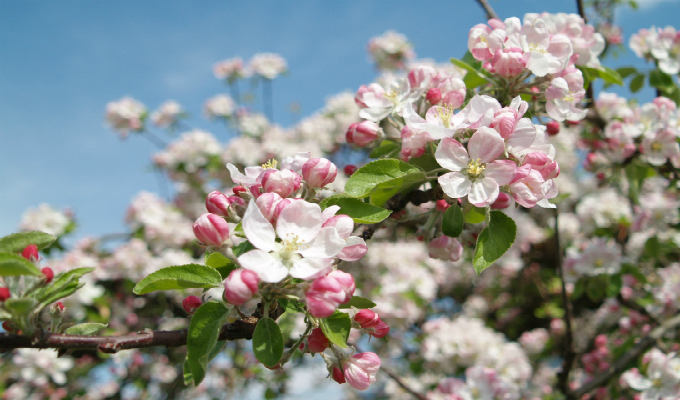 We know that some flowers are edible, but what do we do with them? The following are some culinary ideas and of course whatever your creativity can conjure up as well! If you have a fun way to use flowers in food don't be shy – please share in the comments below!
Edible flowers can be tossed into salads, candied, made into syrups, used to flavour honey, infused beverages, floral-infused butter, or even placed into water when making ice cubes.
Always be sure the flowers are washed and remove the stamens and pistils. Do not do this until you're ready to use the flowers to help prevent wilting.
Eating flowers is the same as wild plants – test one at a time to ensure you do not have any allergies to that plant. Learn more about that by clicking here.
Below are more flowers that you can add to your meals. This list is not comprehensive and don't forget to check out the plants on the website to see what wild plant flowers are edible as well!
Edible Herb Flowers
Anise Hyssop (Agastache foeniculum): Young leaves and purple flowers have a slight licorice flavour.
Basil (Ocimum basilicum): Flowers are white to lavender.
Burnet (Sanquisorba minor): The taste is somewhat similar to that of cucumber.
Chervil (Anthriscus cerefolium): Delicate white flowers have a mild anise taste.
Chives (Allium schoenoprasum): These lavender flowers have a somewhat mild onion flavour.
Cilantro (Coriandrum sativum): White umbel flowers are edible. This plant is also known as Coriander.
Dill (Anethum graveolens): Small yellow flowers grow as an umbel. (Image appears below.)
Fennel (Foeniculum vulgare): Both the garden herb and the vegetable fennel will produce tall umbels of
tiny yellow flowers
Garlic (Allium sativum): These flowers are pink to white and if you like garlic you will love these!
Rosemary (Rosmarinus officinalis) flowers can be deep blue to pink.
Mint (Mentha spp.): All mints have edible flowers.
Sage (Salvia officinalis) Sage flowers have deep blue flowers.
Savory (Satureja hortensis): The flavour is somewhat peppery.
Thyme (Thymus spp.): Milder taste than the leaf.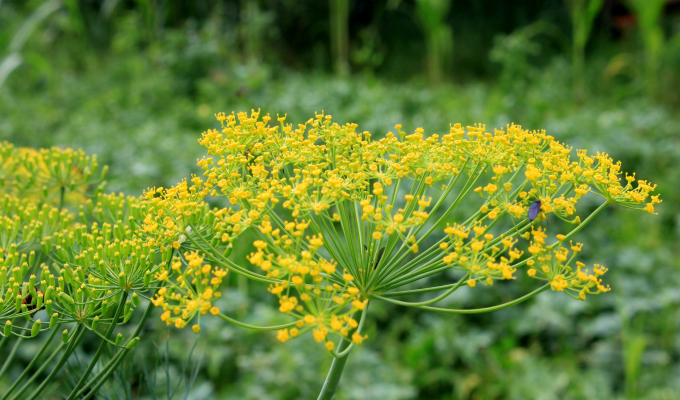 Edible Fruit Flowers
Apple (Malus spp.) (Image at the top of this page.)
Banana Blossoms (Musa paradisiaca)
Citrus Blossoms (Citrus sinensis, Citrus x limon, Citrus × aurantiifolia, Citrus × paradisi and
Fortunella ) (orange, lemon, lime, grapefruit and kumquat). Use highly scented waxy petals sparingly.
Elderberry Blossoms (Sambucus spp.)
Edible Vegetable Flowers
Arugula (Eruca vesicaria)
Artichoke (Cynara scolymus)
Broccoli Florets (Brassica oleracea)
Corn Shoots (Zea mays)
Okra (Abelmoschus esculentus)
Pac Choy (Brassica chinensis)
Pea Blossoms (Pisum spp.) IMPORTANT: Flowering ornamental sweet peas are poisonous – do not eat these!
Radish Flowers (Raphanus sativus)
Scarlet Runner Beans (Phaseolus vulgaris)
Squash Blossoms (Curcubita pepo)
When to Harvest Flowers
Collecting flowers in the morning is the preferred time as at this time of day they have the highest water content. Flowers that are free on external moisture can be kept in a sealed container in the refrigerator for 3-4 days. If they have wilted then floating them on ice water for 10 minutes or so should help revive them.
Between Edible Flowers Part One and Two, and all the edible wild flowers on the website, you now have a long list of potential foods to have lots of culinary fun with this year. Remember – be sure to test each new plant first to ensure you don't suffer from any allergies that might cause you chaos.