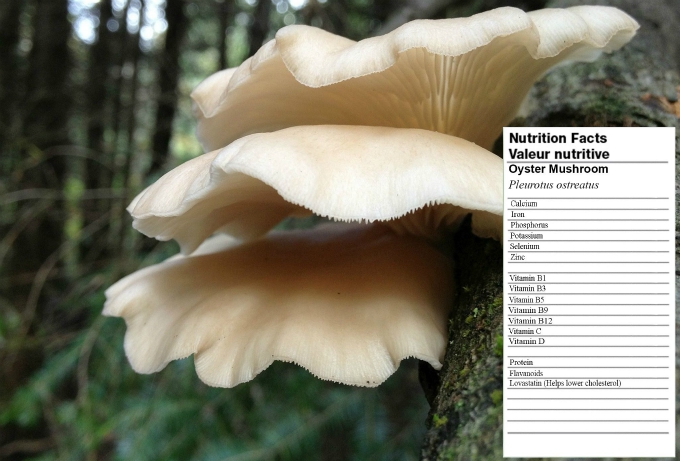 Wild and cultivated mushrooms provide us with the much-needed vitamin B12 in our diet. Although this is not news, the information is not as widespread as it should be. This is certainly great news for those who follow a vegan or vegetarian diet. It is also great news for those in their mature years because B12 deficiencies are quite common in this age group.
What is B12?
Vitamin B12, or cobalamin, is a nutrient our bodies needs for optimum health. It's one of the B vitamins that help the body convert the food we consume into glucose, which in turn provides energy. Vitamin B12 has other vital functions including:
production of DNA elements;
cardiovascular health;
red blood cell production;
regeneration of bone marrow and the lining of the gastrointestinal and respiratory tracts;
supports nervous system health including the spinal cord;
prevention of megaloblastic anemia; and
it looks as though B12 helps to regulate tumour necrosis activity.
B12 Supplements
Many people are not able to properly absorb B12 supplements as these are synthetically produced. (Cyanocobalamin is the synthetic form of vitamin B12 .) Should they be deficient, many opt for B12 injections. Getting B12 naturally is the best way to nourish your body.

Vitamin B12 is in Agaricus bisporus
Many people refer to Agaricus bisporus as being the common cultivated white button mushrooms that most grocery stores sell. B12 is the active corrinoid that is produced in these mushrooms.
Results of an analysis (published in 2009) of B12 was conducted in fresh white button mushrooms harvested from five farms. What was discovered is that there are higher concentrations of vitamin B12 in the outer peel than in the cap, stalk, or flesh; this suggests that the vitamin B12 is probably bacteria-derived. High concentrations of vitamin B12 were also detected in the flush mushrooms including cups and flats.
Wild Mushrooms and B12
Several wild edible mushroom species are popular among those who love fungi foraging. PubMed published a study in May 2014 (Vitamin B12-Containing Plant Food Sources for Vegetarians) with some interesting results.
Zero or trace levels of vitamin B12 were measured in dried fruiting bodies of porcini mushrooms (Boletus sp.), oyster mushrooms (Pleurotus ostreatus), and black morels (Morchella conica). Fruiting bodies of black trumpet (Craterellus cornucopioides) and golden chanterelle (Cantharellus cibarius) contained higher levels of Vitamin B12.
High levels of vitamin B12 are in commercially available dried shiitake mushrooms (Lentinula edodes). The published work states that consumption of approximately 50 grams of dried shiitake mushroom fruiting bodies could meet the RDA for adults (2.4 μg/day).
Lion's mane (Hericium erinaceus) fruiting bodies contain considerable amounts of vitamin B12 as well. (Although not conclusive, vitamin B12 is believed to be in Hericium coralloides and Hericium americanum as well.)
Does Cooking Mushrooms Destroy B vitamins?
By volume, cooked mushrooms are nutritionally comparable to raw mushrooms; however, one cup of cooked mushrooms contains twice as many mushrooms as one cup of raw mushrooms. In the cooking process, mushrooms lose up to half of its nutrients, especially its water-soluble vitamin content. B vitamins are water soluble.
White button mushrooms lose a significant amount of B vitamins when cooked. Six raw white mushrooms provide 0.09 milligrams of B1 (thiamin), 0.4 milligrams of B2 (riboflavin), 0.12 milligrams of vitamin B6, 18 micrograms of B9 (folate) and 3.9 milligrams of B3 (niacin). This provides 40% of the adult daily requirement of B2, 28% of B3 and 6 to 10% of vitamins B6, B9, and B1. (Exactly how much vitamin B12 was not specified.)
Of course eating wild mushrooms raw can put your digestive system into chaos and possibly to the point you end up in the hospital. Always eat wild mushrooms cooked. Cultivated white button mushrooms can easily be added into a salad or eaten with a favourite healthy dip.
Whether you are vegan, vegetarian or a meat-lover, adding mushrooms, wild or cultivated into your daily diet is important to help achieve and maintain good health.
Sources and Suggested Additional Reading:
Vitamin B12 Is the Active Corrinoid Produced in Cultivated White Button Mushrooms (Agaricus bisporus).
World's Healthiest Foods
PubMed: Vitamin B12-Containing Plant Food Sources for Vegetarians
SFGate