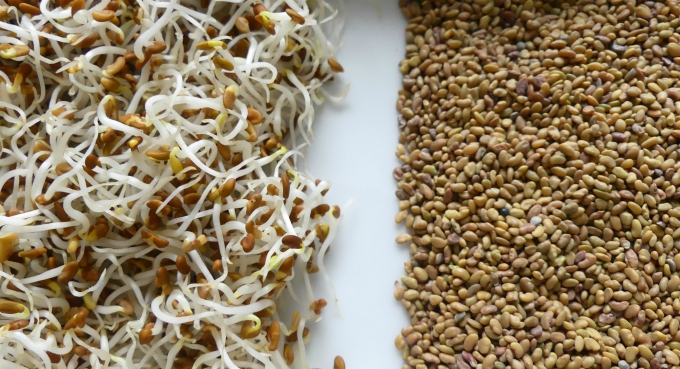 Imported produce is all we can find in our grocery stores throughout the winter months. So, for example, the bell peppers won't be at their maximum potential for nutrients (vitamins A, B2, B3, B5, B6, B9, C, E, molybdenum, dietary fibre, and potassium). Some people claim we should take supplements to compensate for the nutrient-loss we take during the time period in which fresh, local produce is not available.
There is a growing movement to eat organic produce, especially in the winter months. These people feel that purchasing organic produce is another option to ensure higher quality produce – but organic is not necessarily pesticide-free. In fact, under the laws of most states, organic farmers are allowed to use a wide variety of chemical sprays and powders on their crops. The only way to ensure the food you're eating in the winter months is organic, non-GMO, and chock full of nutrients is to get sprouting.
Why Sprout?
Sprouts are produced when a seed starts to grow into a vegetable (or legume) – it's that simple. They vary in taste and in texture. There are some that are quite spicy such as radish and onions; some are crunchy and great for snacks such as mung beans and peas. Some sprouts are rather fine such as alfalfa; but one thing they all have in common, sprouts are all nutrient-dense.
The International Sprout Grower's Association has an incredible website that is loaded with significant research surrounding the health benefits of sprouts. Sprouts may prevent heart disease and stroke, improve bone mineral density, protect DNA against free radicals, and potentially help to treat diabetes, Parkinson's disease, cancer, arthritis, and a host of other diseases and ailments.
For years extensive research has been conducted worldwide on a large variety of sprouts and there is not a doubt that they are highly beneficial for our health. Research from the University of Ulster was presented at BioIreland 2004. Their research found that eating just over 100 grams (1/2 cup) of sprouts on a daily basis for two weeks showed to have clear protective effects against DNA damage in human blood cells.
Times of India reported in 2007 that sprouts such as alfalfa, radish, broccoli, and clover contain concentrated amounts of phytochemicals that can protect us against disease.
In the winter months when fresh produce can't provide us with the nutrients we must have to maintain good health, it only makes sense to sprout some fresh-grown goodness. It is incredibly easy to sprout and costs basically nothing. You don't have to invest in sprouting trays; clean jars, window screening and rubber bands are all you need to get started.
Alfalfa Sprouts
Alfalfa is a common weed found in many countries and was dubbed "The Father of all Foods" in the Middle East centuries ago. In fact, remains of alfalfa more than 6,000 years old were discovered in Iran. The oldest writings about alfalfa are from Turkey, dating 1300 B.C.
Alfalfa is a perennial forage legume which normally lives four to eight years, but can live more than twenty years, depending on climatic and soil conditions. The plant has a deep root system, sometimes growing to a depth of more than 15 metres (49 ') to reach groundwater and to access a large quantity of undepleted nutrients, salts, and other necessary elements. (It often reaches a depth of 5 to 6 feet the first season, 10 to 12 feet by the end of the second year, and may ultimately extend to depths of 15 metres from the third year onward.) This is one of the reasons alfalfa sprouts are sought-after by those in the food industry.
Alfalfa sprouts contain several B-vitamins, vitamins A, C and K, choline and betaine. They contain calcium, copper, iron, magnesium, manganese, phosphorus, potassium, selenium, sodium, and zinc. They also contain dietary fibre, protein, omega-3, omega-6, amino acids and many more health nourishing constituents. Alfalfa sprouts have a high antioxidant capacity and high in phytoestrogens. Even when it develops into a mature plant, this legume has one of the highest nutritional values among most foods.
Studies have shown that dietary phytoestrogens play an important role in prevention of menopausal symptoms, osteoporosis, cancer and heart disease. Broadly defined, phytoestrogens include isoflavones, coumestans, and lignans. Alfalfa sprouts, clover and oilseeds (such as flaxseed) are the most significant dietary sources of isoflavones, coumestans, and lignans. Currently there are no dietary recommendations for individual phytoestrogens, but it is suggested by nutritionists and researchers that there may be a great benefit in increased consumption of plant foods; especially alfalfa and clover sprouts, as well as flaxseed.
Alfalfa is known to alkalize and detoxify the body, especially the liver.
Precautions and Warnings
If you are pregnant, lactating, or on any prescribed or over-the-counter medications always seek the advice of a qualified health professional before eating sprouts. (Alfalfa sprouts in particular are not good for pregnant women.)
Always use certified organic seeds! Organic certification assures that seeds have been grown and handled in a manner that helps minimize possible sources of contamination. Manure used on organic fields, for example, must be composted for a long period. Composting has been shown to reduce or eliminate pathogens in manure. Organic farmers are also required to use rodent and bird proof storage for seeds destined for consumption.
If the seeds you want to sprout are not certified organic they may GMO seeds. A small amount of genetically modified alfalfa seed was sold in Eastern Canada in 2016 and some seed is also now on the market in the eastern provinces. It is suspected to have been released in Western Canada as well. USDA researchers looked at three major alfalfa growing regions in the U.S., California, Idaho, and Washington. They tested more than 400 alfalfa stands growing by roadsides only to discover that more than 25 percent of the samples were GMO.
Crop type of seeds is really important! Make sure that any seeds you buy have been handled as a food crop and not a farm planting seed crop. Seeds that have been in contact with animals or animal waste could be contaminated with Salmonella or E. Coli which could lead to food poisoning.
Handle and store safely! Always wash your hands and sterilize any equipment or utensils before handling your seeds and sprouts. Be sure to follow the how to sprout at this link and always be sure your sprouts are dry before you refrigerate in air-tight containers.
Purchasing Sprout Seeds
Mumm`s Sprouting Seeds is the go-to place to purchase certified organic sprouting seeds in Canada and in the U.S.. Their prices are incredible and depending on the size of your order they offer free shipping. Their website also has a wealth of information and they are always available to help you should you have questions including how to sprout.
With so much research out there on the health benefits of eating sprouts it only makes sense to add these to your daily diet regardless of the season. For us foragers, it is a great way to get nutrient-dense food into our bodies when foraging is not an option.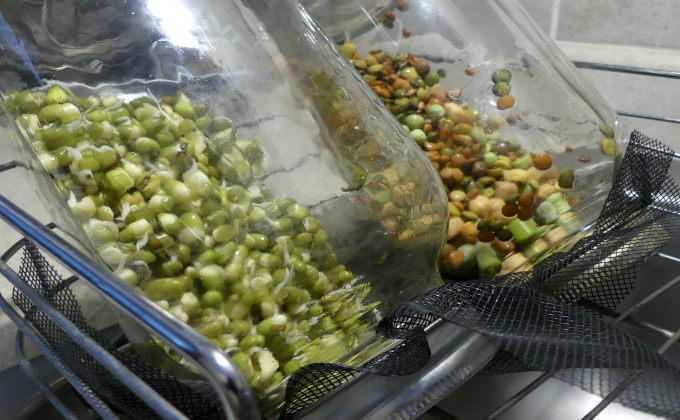 References:
https://ndb.nal.usda.gov/ndb/foods/show/2815?manu=&fgcd=&ds=
http://sprouting.com/health_benefits/16590/Alfalfa-Sprouts.html
http://sprouting.com/how_to_sprout.html
http://nutritiondata.self.com/facts/vegetables-and-vegetable-products/2302/2
https://soilandhealth.org/wp-content/uploads/01aglibrary/010139fieldcroproots/010139ch13.html
https://cban.ca/take-action/stop-gm-alfalfa/
https://www.sciencedaily.com/releases/2004/06/040624094143.htm
https://timesofindia.indiatimes.com/home/science/Health-benefits-of-sprouts/articleshow/2291231.cms?referral=PM