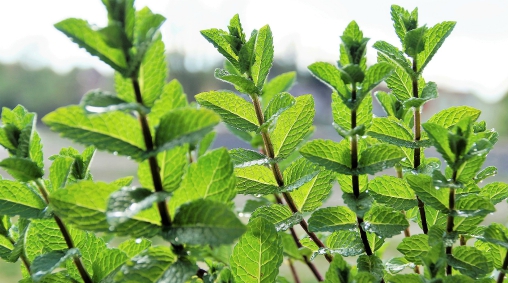 Peppermint (Mentha peperita) is nothing short of being an exceptional plant that has enormous benefits for us and our homes. Out of the hundreds of species of mint, peppermint is the most widely used and best-known.
Globally, the mint family (Lamiaceae) includes about 3,000 species, many having a long history of medicinal uses. The health benefits of peppermint are similar to other familiar plants in the mint family such as sage, basil, oregano, rosemary, lavender and thyme. Wild members of the mint family also have a long history of beneficial uses to humans such as catnip, motherwort, ground ivy, self heal, purple deadnettle, wild basil, wild bee balm and water mint. Although considered a common garden plant, in some areas it does grow wild due to escaping cultivation.
Brief History
Mint's characteristic smell has made it one of the more popular perfuming herbs throughout history. Around the globe, from Europe to India to the Middle East, mint has been used to clear the air in both temples and homes. Mint has also come to symbolize hospitality in many cultures. In ancient Greece, mint leaves were rubbed on dining tables to welcome guests, while in the Middle East, the host still traditionally offers mint tea to guests upon their arrival.
The Pharisees paid their tithes with peppermint. Romans crowned themselves with wreaths made of it, and the Greeks used it in their temple rites.
This cherished plant and its benefits have been traced back to Chinese and Japanese folk medicine practices and even Ancient Egyptian times where dried peppermint leaves were found placed in tombs inside the pyramids. Due to the common incidence of using the name peppermint interchangeably with the terms mint and spearmint, there has been confusion about its history of cultivation, but ancient textual references to it prove that it has been used for culinary purposes and in herbal medicine since 1500 BC.
Mint has played an important role in the American tradition. While the First Nations were using mint even before the arrival of the European settlers, the early colonists brought this prized herb with them from the Old World since they had long honored it for its therapeutic properties, as well as for making tea.
What Exactly is Peppermint?
Peppermint is a hybrid mint, a cross species between water mint and spearmint. It is native to Europe, Canada, and the US and has been widely cultivated in other parts of the world.
This Mentha species is famous for its flavoring and medicinal properties and is used in food, cosmetics, and medicines. It has been shown to be helpful in symptomatic relief from ailments such as colds, cramps, indigestion, nausea, sore throat, toothache and migraines. Many pharmacologic studies also have shown that peppermint possesses antioxidant, cytotoxic, antiallergenic, antiviral, and antibacterial activities. Essential oils extracted by steam distillation from the aerial parts of the plant have been reported to have anti-inflammatory, antibacterial, and antifungal properties.
Peppermint is one of the most widely consumed single ingredient herbal teas. According to Transparency Market Research the global peppermint tea market is on the course to reach the market value of US$330 million over the next ten years.
Peppermint Constituents and Nutrients
The phenolic constituents of peppermint leaves include ursolic acid, rosmarinic acid, and oleanolic acid. Ursolic acid has many pharmacological effects including the antioxidant, anti-inflammatory, antibacterial, and antifungal properties. Rosmarinic acid has antioxidant, anti-inflammatory and antimicrobial activities. The antioxidant activity of rosmarinic acid is stronger than that of vitamin E. Oleanolic acid has some pharmacological activities such as being an antioxidant, antitumor, anti-inflammatory, anti-diabetic, and antimicrobial.
Peppermint has several flavonoids, primarily eriocitrin, luteolin and hesperidin. The main volatile components of the essential oil are menthol and menthone. In addition to volatile oils like menthol, cineol, and azulene, peppermint contains resins, tannin, tocopherols, choline, flavonoids, and a bitter principle.
This incredible plant also includes vitamins A, B1, B2, B3, B5, B6,B9, and C. Calcium, copper, iron, magnesium, manganese, phosphorus, potassium, sodium, and zinc are minerals that help to pack a nutritional punch. Peppermint also includes omega-3 and omega 6.
Peppermint Essential Oil
First and foremost, never ingest peppermint essential oil. Even topically, like many essential oils, peppermint oil can be toxic and even lethal at excessive dosages. Never use the oil for medicinal benefits unless advised by a professional health care giver.
Peppermint oil in a diffuser can help to enhance relaxation, concentration, memory and energy.
When used topically in homemade moisturizers, the cooling and calming effects of peppermint essential oil can relieve sore muscles. Historically, it has been used to reduce itchiness and the discomfort of inflammation, headaches, and joint pains.
In a bath, peppermint essential oil is known to relieve back pain, mental fatigue and coughs. It boosts circulation, relieves muscular pain, cramps, and spasms, and soothes inflamed, itchy skin among other conditions. Added to a foot bath, peppermint essential oil is analgesic and energizing. This is an excellent way to take in its benefits when dealing with a cold.
Freshly powdered dried herb or a drop or two of essential oil leaves skin glowing and fresh. It is strongly recommended to add a drop or two of peppermint oil in a carrier oil first, then apply on the skin.
Peppermint essential oil is known to be an antifungal, bactericidal, fungicidal as well as being antiviral and an antimicrobial.
Peppermint Uses in the Home
Peppermint not only smells wonderful, but has powerful natural cleaning properties that add strength to any home's green cleaning arsenal.
Mix peppermint oil with tea tree oil to make a disinfectant for things around your home. Add about 10 to 20 drops to a 50/50 mixture of white vinegar and water to a 16oz spray bottle and shake well. Spray to clean and disinfect. Shake before every use.
When cleaning your home use peppermint with vodka. According to Food52, it's important to note that at 40 percent ABV (alcohol by volume); vodka is not a true disinfectant. You need an ABV of at least 50 percent to kill bacteria, and at least 80 percent to take on viruses.
You can pour some vodka into a small spray bottle; add a few drops of peppermint essential oil, shake and use. Clean doorknobs, fridge handles, remote controls, and light switches. It will also disinfect kitchen surfaces such as cutting boards and countertops. On bathroom surfaces this can remove soap scum from shower walls.
Promote a good night's sleep by turning down your bed linens 20 minutes before bedtime and refreshing sheets and pillowcases with a linen spray created by blending 1/2 cup distilled water, 1/2 cup inexpensive vodka, and 30 to 40 drops of peppermint essential oils in a spray bottle. Instead of peppermint, lavender essential oil can also be used.
I truly believe that not just peppermint, but a variety of mints have a place in our daily diet, in our personal care products, in our home apothecary, and in helping to maintain a clean home. Mints, I feel, are prolific because they are trying to tell us that we need them.
Sources:
https://www.ncbi.nlm.nih.gov/pmc/articles/PMC6049716/
https://pubmed.ncbi.nlm.nih.gov/16767798/
https://www.bhg.com/homekeeping/house-cleaning/tips/surprising-things-to-clean-with-vodka-281474979485474/
https://ecommons.cornell.edu/bitstream/handle/1813/56135/peppermint-oil-MRP-NYSIPM.pdf
https://food52.com/blog/24392-how-to-clean-your-house-with-vodka
https://www.transparencymarketresearch.com/peppermint-tea-market.html
https://www.ncbi.nlm.nih.gov/pmc/articles/PMC5928337/
https://www.ncbi.nlm.nih.gov/pmc/articles/PMC6150249/
http://www.whfoods.com/genpage.php?tname=foodspice&dbid=102