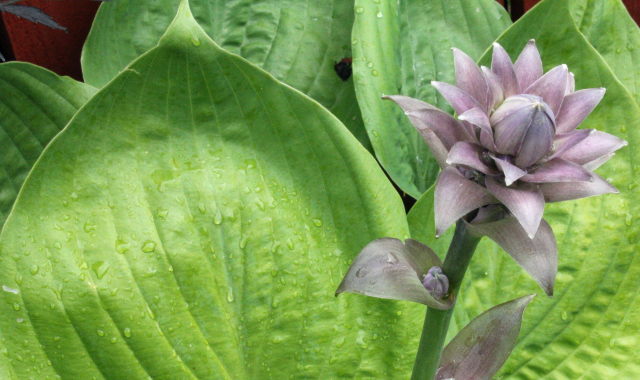 Hostas are a garden favourite because they liven up shady patches, borders and other difficult growing areas in ways no other plant can. Without a doubt, hostas are low maintenance, and are virtually like an artist's palette of groundcovers. Best part of all – they are edible.
Hostas belong to the asparagus family which is known for other famous relatives such as agave, yucca, and of course, the namesake asparagus. Although many people refer to this as a plantain lily there is a belief it is in the Plantago family, but it is not. There are 70 species of hostas and over 3,000 registered varieties.
Hosta History
So what is a cultivated plant doing on a wild edible website? Hostas are and continue to be wild edible plants in eastern Asia. In fact, the largest number of wild hosta species comes from Japan while a few species originated in Korea and China.
The first "western" written records of the genus Hosta came from a medical doctor with the Dutch East India Company named Engelbert Kaempfer (1651-1715). Dr. Kaempfer was stationed in Japan. Although he was forbidden to travel on his own, many people brought him plants to study, including hostas. When he returned to Europe he was not permitted to bring back any live specimens.
Although most species of hostas come from Japan, the first two hosta plants to be introduced into Europe came from China. It is believed that in the mid-1700's, Hosta plantaginea  (Plantain Lily) was first grown in Paris at the Jardin des Plantes while Hosta ventricosa (Blue Plantain Lily) found its way to a private garden in London about the same time period.
Native Hosta Habitats
Different species grow in different environments. Some grow near water around rivers and swamps, some in flat fields, while others find a little dirt in cracks and cling onto mountain sides. In Japan's mountain regions, they naturally grow high up on rock walls or along cliffs.
Although some of these sites are shady, many are in the full sun. Rather than sunlight, the key factors to their success are the air temperature and moisture levels. This may be part of the reason why hostas will thrive in higher levels of sun exposure in northern areas than they do in the southern part of the U.S. where both day and night summer temperatures tend to be much warmer.
It appears that most of the hostas that we commonly grow in home landscapes originated from the margins of the forest or from open grassland areas in Asia.
Eating Hosta Plants
The Japanese have been eating hostas safely for centuries. The shoots that appear in spring are known as urui, they're commonly boiled, fried in tempura or even eaten raw. With a flavour reminiscent of asparagus, they can easily be used in a variety of ways including salads. (Hosta, in Japanese is giboshi.) To maximize their nutritional value and taste, harvest young shoots that are tender.
Young leaves are edible, and even the older leaves (although they become bitter), but they can still provide nutrition and are fun to work with in the kitchen. Keep in mind though – if you harvest just a third of the leaves from each plant and they will provide a sustainable crop year after year.
Of course, leaves can be sautéed, added to stir fry, or used as sandwich wraps. When in doubt, just treat them like any other bitter-tasting leafy green. Interestingly enough, hosta flowers are also edible (albeit a bit bland), and these can be used as colorful garnishes or you can candy them.
What is known in terms of nutrients is that many hosta varieties contain phosphorus, calcium, magnesium, manganese, zinc, copper, and iron.
Below are two links to hosta leaf recipes you may want to try.
Hostas have an exciting history, and if you want to learn more about this please go to the Hosta Helper as they have amazing information.
One last word though – while they are indeed safe for human consumption, hostas are toxic to cats and dogs.
Recipe Ideas: