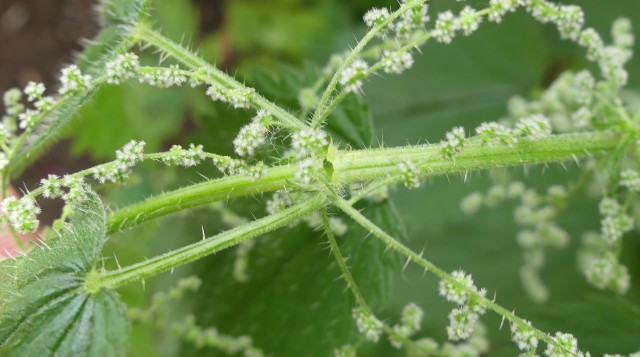 Stinging nettle is a reservoir of micronutrients and nutritional elements which provides us with a wealth of nourishment for our bodies. The leaves are easily digested and high in minerals (especially iron), as well as vitamins A and K. However, eating them raw is not an option. The stinging pain and welts they cause led to their Latin name (Urtica) being used for any similar skin irritation, urticaria.
Every one of us needs general nutritional support in order to stay well or become optimally healthy. There is mounting evidence that shows we are not getting the nutrients we need in store-bought produce so it makes only logical sense to add stinging nettles into your diet.
First and foremost, stinging nettles have trichomes that for many can cause a great deal of discomfort if the skin comes into contact with them. Using gloves is strongly suggested when gathering this plant.
Trichome Chemistry
The trichomes are hollow hairs that break off very easy when touched. The silica tips act like a needle piercing the skin, causing neurotransmitters and acids to enter the body.
The primary source of discomfort from stinging nettles was originally thought to be formic acid, but its concentration levels are far too low. Histamine, serotonin, and acetylcholine cause inflammation and pain while the tartaric and oxalic acid has been linked to extended pain duration.
Everyone is unique and how these trichomes affect one person can be totally different in other. For example, I gather this plant with no gloves. I was taught it will help me combat seasonal allergies, and it has. For me there is a definite sting and sometimes a tingly numbness for up to 24 hours, but I'm fine with that because I know my body benefits.
Other people may not be able to tolerate the sting and worse, they could end up with a serious rash that can cause serious trouble.
Get Stung?
(Please do not go out and sting yourself unless you have received guidance from your professional health provider.)
The sting of the nettle, though painful, can produce beneficial results. The combination of acetylcholine and formic acid produce an improvement of cellular responses, capillary stimulation, and lymph flow. These reactions are said to reduce inflammation, speed healing, and improve circulation. The sting has also been used for thousands of years as a treatment for rheumatism and arthritis. Nowadays science is using the formic acid from this plant (as well as ants) in some cancer treatments.
Historical records show that the use of nettle was plentiful throughout Europe. One early example is the story of Julius Caesar's troops rubbing themselves with nettles, relying on the stings to keep them awake and alert during long and difficult northern campaigns between 58 and 45 BC. Widespread use of this entire plant is recorded as far back as the Late Bronze Age (between 1570 and 1200 BC).
Antidotes
Not everyone can manage the effects of experiencing the nettle sting. There are many purported antidotes to the sting. Interestingly, the juice of the plant's own leaves will heal its sting. The juice of dock leaf, (Rumex obtusifolius), which often grows in close proximity to nettle, is also said to alleviate the pain. In addition, breaking the leaves of broadleaf plantain and jewelweed and rubbing it on the affected area can also bring quick relief.
Nettle Pleasure
When consumed as a tea, or used as a pot herb, stinging nettles provide us with not just much-needed minerals and vitamins, but also it has a high level of lutein and zeaxanthin which is beneficial for our eye health.
According to an article on Mount Sinai's Hospital website (New York), stinging nettle is used by people to treat urinary problems during the early stages of an enlarged prostate. It is also used for urinary tract infections and hay fever. As a topical cream it is useful in treating joint pain, sprains and strains, tendonitis, and insect bites.
It is important to know that once stinging nettle flowers and goes to seed, the plant produces an alkaloid that could be harmful to the kidneys when consumed in quantity. Those with kidney issues should avoid this plant once it flowers.
Stinging nettle may be the bane of many outdoor enthusiasts, but they are a virtual goldmine to those that know the true value of this plant. For thousands of years, stinging nettles have been used as nourishment, medicine and its stems were used to make fabric so there are countless reasons to consider adding this plant to your diet.
For a $5 PDF magazine (21 pages) loaded with information about Stinging Nettle be sure to click here!
For plant identification and recipe ideas be sure to click here!
Sources:
https://www.stlukes-stl.com/health-content/medicine/33/000275.htm
https://www.ncbi.nlm.nih.gov/pmc/articles/PMC4708629/
https://www.hindawi.com/journals/ijfs/2013/857120/
https://www.mountsinai.org/health-library/herb/stinging-nettle