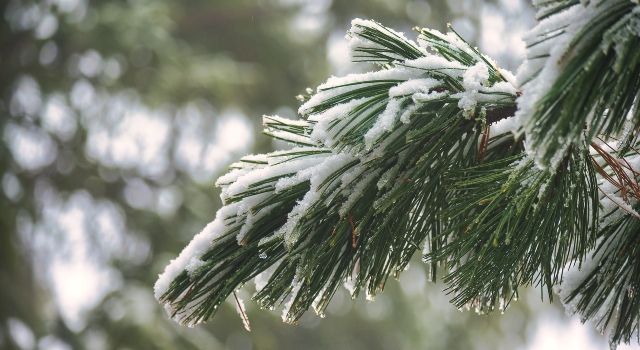 In recent months the pine tree has been a popular topic when it comes to helping alleviate a variety of ailments. Some pine species have been extensively studied and contain many constituents, minerals and vitamins that can benefit our health; yet many species have not.
There are numerous websites that draw in their readers by making big statements about how pine trees boast anti-viral and other health benefits. Although some of the information may be accurate, many websites are not informing their readers as to which species of pine they are referring to. According to the American Conifer Society, there are about 115 species of pine and each one is unique.
Popular Pine Trees
Pines that have extensively been studied for their nutritive content and curative abilities are the eastern white pine (Pinus strobus), the red pine (Strobus resinosa), and the Scots pine (Pinus sylvestris). (The Scots pine is also known as the Scotch pine.) If a blog or article does not refer to a specific pine species, then chances are, in my opinion, they are probably referring to one of these.
With so many varieties of pine, blogs that talk about pine's nutritive content and curative abilities may be misleading to those in regions in which none of these three pines grow. In fact, depending on the pine that grow in their area, these people could ultimately do more harm to themselves than good.
It is also worth noting that that women who are pregnant or lactating should always avoid consuming any type of pine tea.
Know the Pine Tree You Want to Use
Not all pine trees are equal in their health benefits. In fact, there is some research out there that claims some species of pine are not safe for consumption, or should only be used in a survival situation. For example, Mark "Merriwether" Vorderbruggen, author and owner of Foraging Texas writes:  "Unlike most eastern/northern white pines (Pinus strobus), the inner bark of the loblolly pine is not considered a source of food/calories because its cambium layer (inner bark) doesn't taste nearly as good as the cambium of white pines. However, in an emergency it will sustain you."
There may be many pines in your area that you want to seek out because you read that pine tree needles are healthy, but are the pines in your region the ones that have been studied and are safe to consume?
Genetically Altered Trees
In some regions across the U.S. (and possibly Canada) there may be genetically altered pine trees. For example, loblolly pines are typically used for lumber, plywood and paper. ArborGen, a tree seedling company, has developed a genetically modified cultivar of the tree that's higher in density and is not regulated by USDA.
This pine tree, genetically engineered for greater wood density, can be grown without restrictions which is rather alarming. Many critics of genetically modified organisms now fear that this new cultivar will cross-pollinate with trees in the wild, resulting in unknown consequences for forests. For those not paying attention to what pine they are harvesting, this may (eventually) have a bad outcome.
Although this made news in 2010, many native pine trees in the southeast US may have been replaced with genetically engineered eucalyptus.
Brief Overview of Pine Tree Research
Based on numerous studies, high levels of arginine, proline, and guanidino compounds are present in white, red, and Scots pine decoctions prepared in the winter months.
Arginine (or L-arginine) is an amino acid that can treat several conditions including:
Chest pain or pressure.
Erectile dysfunction.
High blood pressure.
Migraines.
Proline, an imino acid plays an important role in protein synthesis, metabolism, and nutrition. It also helps with wound healing, antioxidative reactions, and immune responses. An imino acid is similar to an amino acid except the nitrogen in an imino acid forms a double covalent bond to another molecule.
Guanidino (Guanidinoacetic acid), has promising potential for muscle health.
Some researchers postulate that pine needles from any of these three species can be used as a natural remedy for up to 80% of human diseases.
Pine needles from the eastern (or western) white pine, red pine or Scots pine trees are very high in vitamin C and vitamin A. In fact, there is some research on the needles of all three species that indicates they contain three to five times more vitamin C than an orange (based on a pot of tea made with pine needles). They also contain several minerals. Some constituents they possess include: Alpha-Pinene, Beta-Pinene, Beta-Phellandrene, D-Limonene, Germacrene D, 3-Carene, and Caryophyllene.
Benefits of Pine Needles
As a tincture, decoction or tea, pine needles from these three species can help alleviate congestion and other respiratory problems.
The vitamin A content may help improve vision. It does this by maintaining a clear cornea (the outside covering of the eye). Vitamin A may also support rhodopsin, a protein in the eyes that allows people to see in low-light conditions.
Although components in pine needles have healing properties, sometimes enjoying a cup of pine needle tea is simply a wonderful way to bring the aroma of the forest into your home!
Pine Needle Tea and Pregnancy
Although mentioned above, it is worth mentioning again. If you are an expecting mother interested in pine needles as a tea, tincture or decoction, you MUST err on the side of caution and avoid this all together because it can cause miscarriage. This applies not only to during pregnancy but also while breastfeeding as it might negatively influence milk supply.
How to Enjoy Pine Needles as a Beverage
Always remember that vitamin C begins to denature at 160 degrees F., so if you boil the needles, you will not get as much vitamin C as you think. Making a tea is easy, click here to find out.
Making a decoction is different though. This is how to make a decoction:
Place 3 tablespoons of chopped/cut up pine needles (white, red or Scots) into a small saucepan. Cover the needles with a litre (quart) of cold water.
Slowly heat the water to a simmer and cover. Allow to gently simmer for 45 minutes.
Strain into a litre (quart) jar. Some water will have evaporated, so your strained liquid will not fill the jar. Best consumed warm.
Want more in-depth information on pine trees? Be sure to go to my store page and order your PDF magazine for only $5. You get over 25 pages of great information including some history, uses, identification, recipes, nutrition, and more. Click here to purchase your copy!
Sources:
https://www.ncbi.nlm.nih.gov/pmc/articles/PMC2647905/
https://www.capitalpress.com/ag_sectors/research/usda-cannot-restrict-gmo-pine/article_2c871f8d-853e-5290-b14b-c70ec0951abb.html
https://www.foragingtexas.com/2006/04/loblolly-pine.html#:~:text=fantastic!,emergency%20it%20will%20sustain%20you.
https://www.ncbi.nlm.nih.gov/pmc/articles/PMC3773366/#:~:text=Proline%20plays%20important%20roles%20in,antioxidative%20reactions%2C%20and%20immune%20responses.
https://www.ncbi.nlm.nih.gov/pmc/articles/PMC3726934/
https://www.sciencedirect.com/science/article/pii/S1756464620303534
https://www.scientificamerican.com/article/eucalyptus-genetically-modified-pine-tree-southwest-forest/
https://conifersociety.org/