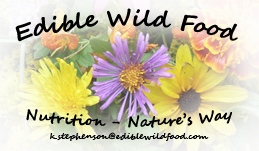 Nutrition – Nature's Way is hot off the press! The launch of EdibleWildFood.com's new monthly newsletter is not only completed, it is in e-mailboxes across the world! This is an exciting venture and every month there will be some amazing information to help you maintain good health – nature's way!
If you haven't signed up for the free newsletter yet here is a sneak peak at what you are missing out on:
February is Heart & Stroke Month – There are some edible weeds that contain the vitamins and minerals your heart needs to stay healthy and you'll discover what they are when you subscribe.
Keeping your skin healthy using an exfoliation recipe that is so simple it can actually help reduce the signs of premature aging. In addition, this recipe leaves your skin feeling better than probably most anything you can spend a fortune on in the stores and it uses only two simple ingredients.
And of course being Heart Month, the "Weed of the Month" is purslane! Purslane contains a very high content of Omega-3 fatty acids and this helps to keep your heart healthy!
It's never too late to sign up. Click here, fill in the form and you're done!
Nutrition – Nature's Way, yours to discover!