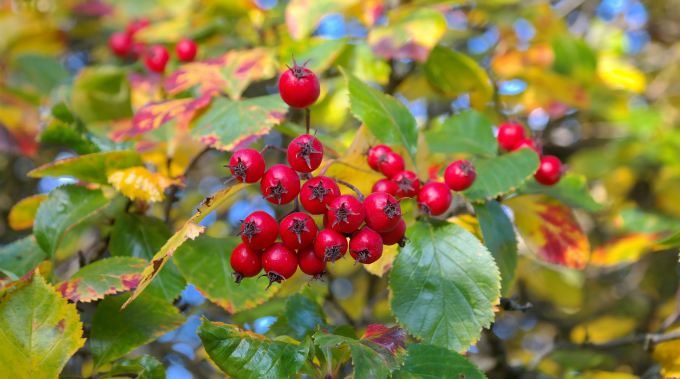 Consuming heart-healthy herbs and spices on a regular basis is the best type of health insurance anyone can ever have. People in the U.S. and in Canada potentially will suffer cardiovascular problems, which in many cases, can be totally avoided. Heart disease is the #1 killer in the U.S. and the #2 killer in Canada.
Function of the Heart
The human heart is an organ that pumps blood throughout the body via the circulatory system, supplying oxygen and nutrients to the tissues and it removes carbon dioxide and other wastes. All cells in our body require a constant supply of nutrition in order to be active. If the blood is not moving properly, regularly, and strongly throughout all the tissues, then waste products build up. As a result, aches and pains may occur in the muscles and in other parts of the body. Feeling tired and depressed can set in. Worse, if the heart is not able to supply blood to other organs and cells then they will die.
Traditional Chinese Medicine
It is interesting that in Traditional Chinese Medicine, the heart is associated with the nervous system and 'the spirit.' It is said that if the heart system is strong, then the mind will be clear, the emotions positive and calm, and the spirit strong. Joy is the emotion associated with the heart. The ancient Chinese believed that experiencing joy has a beneficial effect on the heart and this certainly holds true today.
Hawthorn
Hawthorn (Crataegus oxycanthus) has long been considered the herb of choice for strengthening and protecting the cardiovascular system, particularly the heart. In the late 1800s European doctors began experimenting with it clinically for heart disease and other cardiovascular disorders, and since then its reputation has grown steadily.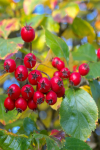 Today numerous laboratory tests and a number of clinical trials support its use by demonstrating that hawthorn leaves, flowers, and fruits contain chemical compounds that increase blood flow to the heart muscle, as well as positively affect other aspects of cardiovascular health. Hawthorn has been used successfully for angina pectoris, functional heart disease, arrhythmia, early manifestations of circulatory insufficiency, and as a heart tonic to regulate circulation. In modern European medicine, hawthorn preparations are widely used for chronic or light cases of cardiovascular diseases. They are first and foremost used as a preventative to slow down the onset of cardiovascular damage.
Pigweed
The dietary fibre content in pigweed (Amaranthus retroflexus) helps to balance cholesterol in the body by eliminating the LDL (bad) cholesterol from the cardiovascular system. Pigweed also contains a significant amount of vitamin K, which is a well-known boost for heart health. The potassium content in pigweed helps to lower blood pressure by dilating the blood vessels and reducing the strain on the cardiovascular system, thereby lowering the chances of developing atherosclerosis. The high content of phytosterols found in pigweed also contributes to a reduction in LDL cholesterol.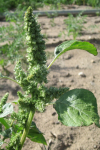 In 2007 a study on amaranth oil was published (Amaranth oil application for coronary heart disease and hypertension: Authors Danik M Martirosyan, Lidia A Miroshnichenko, Svetlana N Kulakova, Ala V Pogojeva and Vladimir I Zoloedov). What this study discovered was that the inclusion of amaranth oil (derived from Amaranthus hybridus) included in the diet helped improve heart health. This oil significantly decreased the amount of total cholesterol, triglycerides, LDL and VLDL. Having amaranth oil in the diet contributed to an increase in the concentration of polyunsaturated fatty acids, particularly, long-chain acid of omega 3 families in patients suffering from hypertension and coronary heart disease.
Motherwort
Motherwort (Leonurus cardiaca) is a well-recognized plant that works as a sedative and nervine that is highly beneficial to the circulatory system. As a heart tonic, motherwort is used for palpitations, mild heart irregularity, hypertension, and to strengthen the heart.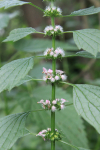 Do not use during pregnancy. Motherwort helps bring on a delayed or suppressed menstrual flow, especially when someone is anxious and tense.
Motherwort is primarily an herb of the heart. Chinese studies found that extracts decrease clotting and the level of fat in the blood and can slow heart palpitations and rapid heartbeat.
Other Heart-Healthy Herbs and Spices
There is a long list of herbs and spices we can be incorporating into our daily diet to help prevent heart disease and many of them we can get for free by foraging. Some herbs and spices include:
Angelica
Willow
Garlic
Cayenne
Cinnamon
Ginger
Turmeric
Rosemary
Olive oil
Peanuts (Be sure to eat them from the shell and consume the red skins because this is where the heart-protective compounds are located.)
For a tasty healthy heart tea be sure to click here. This tea is a great morning tonic to help increase circulation and energy.
Preventing Heart Disease
We all have more control than we realize to avert heart disease. When we look at the main causes of heart disease it's no wonder that this is taking hundreds of thousands of lives. We have had countless warnings for decades about what to do to avert heart disease yet few seem to be listening. Far too many people are still eating poor choices of food such as processed food, junk food, and fast foods. Making good food choices is critical to overall good health, not just cardiovascular health. Other risk factors include:
Smoking.
Lack of exercise (exercising one half hour a day is important).
Being overweight or obese.
Stress (learning how to manage stress is critical).
Always remember that by taking these herbs and spices on a regular basis is without a doubt, the best type of health insurance you will ever have.